It can be challenging to know what to do when you've ended a job, and maintaining a good attitude can be key. Staying positive and productive after leaving a job can help you maintain good habits for the process of finding your next role and for when you begin your next job. In addition, staying positive and productive after ending your employment can help support your own happiness and well-being. In this article, we explain the importance of deciding what to do after you leave your current employment and provide nine ways to stay positive and productive when you do.
The importance of answering, "I quit my job, now what?"
Asking yourself—and answering— a version of "I quit my job, now what?" can be an important process when you have ended a particular role. This line of questioning can open the possibility of productive self-reflection, for example. It can also help you decide what your next steps will be, whether you want to pursue a role in your current industry, learn a new skill or even take an altogether different route such as starting your own business.
Being able to answer this question can also help prepare you for conversations about the end of your employment and your new job search when you are networking in person and online. Recruiters and hiring managers might wonder about your plan for your next steps, and they might pay attention to your attitude and perspective as well as the specifics of your response.
Ways to stay positive and productive after quitting your job
To help support your own career transition, here are nine ways to stay positive and productive after quitting your job: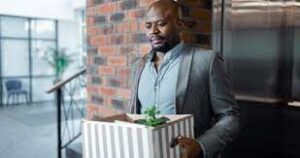 Find balance
Try to seek balance in your perspective after you leave your job. It can be tempting to focus primarily on the end of your previous role, so reminding yourself to take time for other interests and pursuits can help support a more balanced outlook during this time. Finding a balanced perspective can help you stay productive as well because it will allow you to channel your energy into tasks such as learning a new skill or looking for a new job.
Celebrate your whole self
Sometimes, it can be challenging to separate your identity from your job. Try to celebrate your whole, unique, individual self after you leave your previous role. Acknowledging and honoring the parts of your identity that you value outside of your career can help you stay positive and possibly enjoy the new job search ahead of you if you choose to look for another role. Try brainstorming your most positive qualities, or even discussing your strengths with a trusted friend or mentor.
Consider your successes
After leaving a job, it can be valuable to remind yourself of your professional successes and achievements. Remembering what you accomplished in that role can be a good way to stay positive and possibly maintain a healthy outlook on your previous experience. It can also support continued productivity by reminding you of the skills and abilities that you can use to find and succeed in a new role.
Take time to rest
Leaving a job can also be a good opportunity to rest, both physically and mentally. If you work in a physically demanding role, you might use this time to allow your body to recover. This can help you stay positive by supporting your physical and mental health, and help with your productivity by allowing you to be as well as you can be if and when you start a new role. If your previous role was mentally tiring or challenging, taking this time to rest can help you focus on your mental and emotional health.
Update your application materials
The time after leaving a job can be a good time to update your application materials such as your resume and cover letter. Your previous experiences and accomplishments will be fresh in your mind, and you will probably have a good idea of what you are looking for in your next role. Revise and edit your current application documents in this context, and consider updating your personal and professional social media at this time as well. Focusing on the positive elements of your last experience and looking toward what you hope for in the future can help you stay positive and productive when you leave a job.
Learn something new
Learning a new skill or ability can help you stay positive and productive when you leave a job by engaging your interest in your current field or another. Taking a class or training might also make you aware of new lines of work or job opportunities you may not have been aware of, which can be a productive part of looking for your next role if this is part of your career plan.
Enjoy the career search
If you want to look for a new role, enjoying the process can help you maintain a positive outlook and possibly have a more effective experience in your career search. If you enjoy meeting new people, for example, you might try to see professional networking as a chance to make fun new connections with like-minded individuals. If social media and technology are enjoyable for you, try to engage with the online application process as an outlet for those preferences and abilities. Interviewers and job contacts might notice your positive outlook, which might help you as well.
Find a side gig
If you decide to wait on finding a new primary role, or even if you are seeking full-time employment, finding a side gig can help you feel productive after you leave your employment. Consider spending time on a side job that you enjoy to stay productive and possibly make a bit of extra income. Working a side gig can also be a good way to make connections in your current industry or a new one, and potentially learn new skills.
Pursue your hobbies
Consider taking the time to pursue your hobbies after you leave your job. You might have more time available to do the things you enjoy, and engaging in your favorite activities can help boost your mood which can, in turn, result in an overall positive outlook. This can also help you stay productive and creative while developing your existing skills.
I hope you find this article helpful.