When recording videos, people may want to save and store them on a computer or other device. Video format files are different ways that people can save videos to open and play on various platforms. If you record or edit videos as a part of your job, you may benefit from learning about the different video formats you can use to determine which type can work best for the content and purpose of a video project.
In this article, we define what a video format is, list nine video file types, and explain how to decide which format is the best for your project.
What are video formats?
Video formats are files that contain the audio and visuals to store a video. There are two key components of a video format: a container and a codec. A container stores the metadata of a video, such as audio, subtitles, and visuals, and describes the structure of the file's data. A codec is a device that encodes and decodes the data on the file, including audio and videos and compresses the video file before storing it in a container. There are several video formats you can use based on the codec and container.
9 types of video formats
Here's a list of nine file formats you may encounter while working on a video project: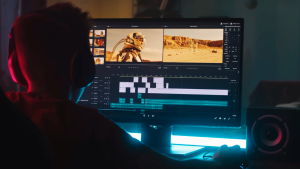 1. MP4
An MP4, also known as MPEG-4 Part 14, is one of the most common video formats. Most devices support MP4 files, and MP4 files can play high-quality files while keeping the file size small. You can use an MP4 format to store a variety of files, such as audio, video, and image files. MP4 files can store text as well, and they can contain videos with audio or files with just audio. This video format works well on several social media platforms, which makes it a diverse format for storing and playing videos.
2. MOV
MOV, or QuickTime Movie, is another popular format Apple created to provide videos for the QuickTime player. These files can hold many items, including audio, videos, time codes, and subtitles. Since this file type can contain many video components, the file size is typically large. MOV formats support high-quality videos, but they usually only work on QuickTime players. This means that they aren't compatible with other media platforms. You can use it with different versions of QuickTime player on MAC or Windows, and MOV files work with popular viewing platforms, as well as on TV.
3. WMV
A WMV, or Windows Media Viewer, format provides decent-quality videos with large file sizes. Microsoft created this format for Windows Media Players, and people who use Apple can also watch WMV videos. However, they have to download Windows Media Player in order to view it. WMV isn't compatible with Apple devices otherwise. YouTube supports this format, which is beneficial for easy sharing and viewing. You might use WMV if you're sending a video on an older model of Windows or for online streaming, but you can't edit the video's aspect ratio in WMV.
4. AVI
AVI or Audio Video Interleave is compatible with several web browsers on Windows and Mac because you can use different codecs on an AVI file. A flexible video format means you can choose a balance between quality and size. This video format provides very high-quality videos, but it has much larger file sizes, so it takes more space to store. You can watch AVI videos on YouTube, which makes it a valuable choice for watching videos on a television, and you can make AVI files without compression.
5. AVCHD
An AVCHD, or Advanced Video Coding High Definition format, supports high definition and regular definition digital recording. This format allows you to store high-quality videos using small amounts of data and storage by using video compression technology. You can use AVCHD formats with digital camcorders, which is beneficial for recording high-quality videos while traveling without losing definition. This is valuable for those who might like to record videos with consumer technology because they can use this video format to create videos while saving space. Another benefit of this format is that the latest version can support three-dimensional videos.
6. FLV
An FLV or flash video format is compatible with Adobe Flash Player, and many have used this file format for a long time because it works with several browsers and platforms, which means you can use them for streaming videos. This file format has small file sizes, which are good for storage and downloading. Some systems only take FLV files, which is why you might use them in a different format.
7. MKV
Developers in Russia created the MKV or Matroska format, and it's popular because it's open-source and provides several features. MKV files support audio, videos, and subtitles using one file. It's also a valuable format for storing videos because the videos remain updated in the future. MKVs are compatible with several codecs, though not all platforms or programs support them. These files are adaptable and easy to use, making them a popular choice for videos.
8. WEBM
The WEBM format requires a small amount of computer power but doesn't produce high-quality videos and since they're relatively small files, you can load them quickly and easily. They're beneficial for distributing a video to a large group of people and you can use them on video-streaming platforms like YouTube. This format is diverse because you can use it with several devices, including desktop computers or tablets. They're beneficial for embedded videos, which may be valuable for small businesses since you can disseminate them to groups of people.
9. MPEG
MPEG is a video format that the Moving Picture Experts Group developed and can play audio and video or just audio. MPEG provides low-quality videos using a small file size. You may use this format if you want to record a video without editing it. The quality of the video may degrade after editing it multiple times. MPEGs are common video files because you can quickly download and distribute them. Several media players support MPEG files, which is also why people commonly use them.
How to decide on a video format
Here are four steps to help you decide on a video format:
1. Consider the video quality requirements
First, consider the quality requirement of the video because different formats support various levels of video quality. For example, some high-quality videos are more challenging to manage, meaning that they're difficult to download, share or convert. Also, decide how you'd like to view your video because some browsers can only support certain video file formats.
2. Determine if it's going to be viewed on the web
Next, try to determine if you're going to view the video on the web. If you are, try to choose a video file format that's compatible with several web browsers. For example, WEBM and MP4 video formats are compatible with most browsers. If you choose a file format that works with web browsers, you can watch the video without having to download a media player.
3. Decide whether to store a video
If you're trying to archive a video, consider choosing a high-quality file format. You can play a high-quality video format in the future, which is why it's valuable for saving old videos. For example, if you're trying to archive old training videos from work, then you might choose AVI or MP4 files. Also, consider using an open-source format because they're free and often unrestricted.
4. Determine which Windows you're using
Determine which version of Windows you're using because sometimes video formats are only compatible with certain versions. If you're using a newer version, you may have more options from which you can choose. If you or your company uses older versions of Windows, then you may need to choose a file format that's compatible with multiple older models. For example, you could use a WMV video format for older Windows computers.
I hope you find this article helpful.