Organizations use structures to help their professionals understand their place and role within the organization and define avenues of communication. One structure organizations may use is a team-based structure. Understanding a team-based structure and the benefits it can give an organization can help you determine if it's a good match for the structure of your business.
In this article, we discuss eight benefits of a team-based structure, including how they can help an organization grow and how they connect.
What is a team-based structure?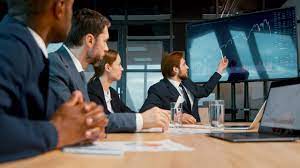 A team-based structure is an organizational structure where several teams work toward a common goal while performing their own specialized tasks. They encourage less hierarchy in their structure, allowing organizations more flexibility from their professionals. This flexibility allows for several other advantages in the structure.
The structure that team-based organizations have often includes a CEO, and several department leaders such as human resources, project management, marketing, IT and finances. Within those departments, there may be team leaders and team members who complete tasks based on their job duties and the overall role of their team within a project.
For example, a company that produces three paper products might have three project managers, one for each project. Within each of those teams are professionals who create the paper product, quality assurance professionals who ensure every product meets government regulations and company standards, and team leaders to manage different professional groups.
8 advantages of team-based structures
Below are the advantages businesses may experience if they adopt a team-based structure:
1. Better communication
One of the major benefits of a team-based organizational structure is that there are adaptable channels of communication between professionals working on a project. For example, a group of professionals working for an organization that creates marketing materials or other organizations may have several professionals with unique skills on one team such as a team leader, a graphic designer, a quality assurance specialist, a writer and a marketing specialist.
Because they're all on the same team and regularly interact with each other, they communicate ideas faster. Further, professionals may reach out to other departments within the organization for information.
2. Increased efficiency
Because professionals can communicate more effectively within an organization, they increase the efficiency of outputting projects. This means that they can often complete more tasks quickly than professionals in other organizational structures because they understand more information that goes into a single project.
This increased efficiency works its way through an organization in other ways, too. For example, the organization might take on more projects that are like each other at once because they complete projects faster and understand creation processes more fully. Finally, organizations that are more efficient may receive both better contracts and more contracts from their clients.
3. Additional professional flexibility
As teams of professionals work on more projects, they may learn skills from the other professionals they work with. For example, marketing specialists and writers working on the same projects might develop skills and work on tasks that the other professionals used to complete.
Organizations that use team-based structures can also move professionals onto different teams to develop additional skill sets, allowing for a lot of professional development while working for that organization. This can help an organization create specialized and generalized professionals and generate satisfaction from its employees because they get to work on a variety of projects.
4. Empowered professionals
Professionals who are part of a team, developing skills, and working on a variety of projects may derive more satisfaction from their jobs. This means they can feel empowered because they have a lot of skills they can use and know that an organization can help them grow as a professional.
This allows them to focus their energy at work on creating high-quality products and delivering on their commitments instead of worrying about their future within the organization and whether they're progressing in their field. Empowered professionals may also feel more comfortable approaching leadership with ideas.
5. Encourages innovation
Because professionals in an organization with a team-based structure feel more empowered, they can bring ideas to their team leaders and other management professionals in their organization. This includes new ideas for markets an organization can enter, new processes to help production increase, ways to increase a sense of community within the organization and other innovations that help an organization grow. Each team may also develop new processes to increase their own production and then share those ideas with other teams to help them.
6. More constructive competition
Empowered professionals within an organization are often more open to competition with other professionals. For example, an organization that has several teams that engage in the same tasks may set quotas to meet each week, but may also include a small pay bonus for the team that completes the most work.
This helps the productivity of each team because they all want the pay bonus, so they increase the amount or the quality of work they do to get the reward. With the teams competing healthily, they all slowly grow more productive as time passes.
7. Increased teamwork
A natural product of team-based structures in an organization is an increase in teamwork among professionals in the organization. Not only do the teams who work together become more comfortable working toward their goals, but the teams and their leaders may become more open to teamwork with other teams and leaders within the organization.
This teamwork can help an organization handle challenging processes and new products and adapt to new clients or changes in how clients want their work to look. This also helps professionals grow within the organization because teams suggest ways for each other to improve.
8. Larger sense of community
One last advantage that team-based structures provide to businesses is that they foster a larger sense of community within the organization. This means that everyone understands they're working toward the same goals, teamwork is a major factor within the organization and every professional understands how they contribute to the ultimate success of the company. That helps them understand the relationship between their success and the benefits the organization confers upon them.
I hoep you fidn this article helpful.