Aalborg University Business School is offering the International PhD Position in Economics, Business, and Management for the academic session 2024/2024. All international and domestic students who want to undertake their PhD studies in the Faculty of Social Sciences and Humanities are eligible to win this scholarship.
Aalborg University Business School Scholarships 2023/2024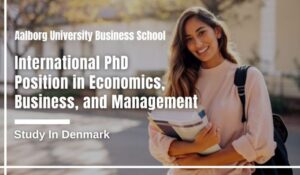 Studying at Aalborg University Business School offers a multitude of advantages. The institution's strong emphasis on practical, interdisciplinary learning equips students with valuable real-world skills. Additionally, its commitment to sustainability and entrepreneurship ensures graduates are well-prepared for the evolving business landscape.
Application Deadline: 27 October 2023
Brief Description
University: Aalborg University Business School
Department: Faculty of Social Sciences and Humanities
Course Level: PhD
Awards: Salary
Access Mode: Online
Number of Awards: One
Nationality: Domestic and International students
The award can be taken in Denmark
Eligibility            
Eligible Countries: All nationalities
Acceptable Course or Subjects: PhD degree program in Economics, Business, and Management
Admissible Criteria: To be eligible, the applicants must meet all the following criteria:
PhD stipends are allocated to individuals who hold a Master's degree or expect to have obtained the Master's degree before the employment date(Statement from thesis supervisor, verified transcripts, thesis contract and documentation of the date of the exam must be enclosed). According to the PhD Order, the PhD study comprises among other requirements: Participation in active research environments, including stays at other, mainly foreign, research institutions, private research enterprises etc.
READ ALSO: ELICOS PATHWAYS SCHOLARSHIPS 2023/2024
How to Apply
How to Apply: To apply for the award, applicants need to be admitted in PhD degree at the university. After being enrolled, applicants can complete the application form through an online portal for study funds.
Supporting Documents: You must submit all the following supporting documents:
The application must include the following and be written in English or Danish:
Copy of diplomas/transcripts
Curriculum vitae(CV)
List of written work(optional)
Sample of written work, e.g. Master's thesis(optional)
Admission Requirements: For admission, applicants must hold a bachelor's degree from a recognized university.
Language Requirement: Foreign applicants must forward a verified IELTS test(International English Language Testing System). Exempted are applicants with a master's degree from a Scandinavian country, United Kingdom, Ireland, South Africa, Australia, and Canada.
Benefits
Aalborg University will provide the salary to the high achieving candidates who want to undertake PhD degree coursework for the academic year 2023/2024.
I hope you find this article helpful.