Are you interested in Adekunle Ajasin University, Akungba-Akoko (AAUA) Part-time Admission? Then we are pleased to inform you that the AAUA Part-time form for the 2023/2024 academic session.
AAUA Part-Time Form 2023/2024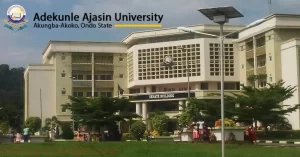 AAUA Part-Time Courses
The university provides a wide range of programmes to cater to different academic needs.
A. Professional Master's Programmes (Two Academic Sessions):
Master's in Security Psychology (MSP)
Master's in Business Administration (MBA)
Master's in Managerial Psychology (MMP)
Master's in Public Administration (MPA)
B. Postgraduate Diploma Programmes (One Academic Session):
Postgraduate Programme in Financial Management (PGDFM)
Postgraduate Programme in Public Administration (PGDPA)
Postgraduate Programme in Computer Science (PGDCS)
C. Undergraduate Programmes (Five or Four Academic Sessions):
B.Sc. Accounting
B.Sc. Banking and Finance
B.Sc. Business Administration
B.Sc. Computer Science
B.Sc. Criminology and Security Studies
B.Sc. Economics
B.Sc. Geography and Planning Sciences
B.Sc. Public Administration
B.Sc. Pure and Applied Psychology
B.Sc. Political Science
B.Sc. Sociology
B.A. English Studies
B.A. History and International Studies
B.A. Linguistics and Yoruba (Combined Honours)
B.A. Philosophy
D. Diploma Programmes (Two Academic Sessions):
Diploma in Public Administration (DIPPA)
How to Apply for AAUA Part-Time Admission Form
Head over to the IPTP AAUA website, accessible at this link: https://www.iptp.aaua.edu.ng/homepage/
Navigate to the "Advertisement Documents" section for detailed information about Admission Requirements and Study Centres for each course offering. Make sure you meet the requirements and consider the location of the Study Centre before deciding on a course.
To start your application, click on "Apply Now," followed by "Create Account."
You can then access your account using your designated username and password.
Proceed to the "Payment Method" section, select "Pay Now," and then choose the program you are applying for (Master's, Postgraduate Diploma, Undergraduate, or Diploma).
By clicking on "Make Payment Now," you will be directed to the PayTech Payment Gateway.
Here, you will be required to provide your MasterCard or Visa Card information.
Upon successful transaction, your bank will send a Token (a set of numbers) for authentication purposes.
Use this Token to finalize your payment.
After payment, you will be redirected back to the homepage: https://www.iptp.aaua.edu.ng/homepage/
Click on "Application Form" to complete and submit your application.
Lastly, click on "Finalize Application Form" and print your acknowledgement slip for your records. There's no need to physically submit this form; short-listing will occur online.
APPLICATION FEES
Postgraduate Programs (Master's and Postgraduate Diploma): N20,315 (inclusive of bank charges)
Undergraduate Programs: N12,815 (inclusive of bank charges)
Diploma Programs: N10,315 (inclusive of bank charges)
For any queries, contact Dr. Bayo Fasunwon, the Acting Director of the Institute of Part-time Programes, AAUA, at 08034134614.
Application Deadline: Not Specified.
I hope you find this article helpful.
Also Read: Edo State Polytechnic POST-UTME FORM