The Africa Center of Excellence for Neglected Tropical Diseases and Forensic Biotechnology (ACENTDFB) stands out as a remarkable institution in the realm of scientific research and education. Uniquely positioned in the West African landscape, it addresses a gap that is of paramount significance: neglected tropical diseases. Given that these diseases currently tally at 20, as per the World Health Organisation's count, the role of the ACENTDFB is undeniably vital.
ACENTDFB Post-Graduate Studies In Biotech And Forensics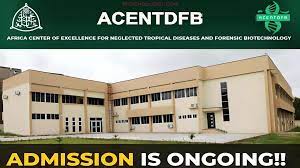 | | |
| --- | --- |
| 🌍 Institution | Africa Center of Excellence for Neglected Tropical Diseases and Forensic Biotechnology |
| 📍 Location | West Africa |
| 🦠 Focus | 20 neglected tropical diseases (WHO recognized) |
| 📜 PG Diploma | Forensic Biotechnology |
| 🎓 MSc Programs | Biotechnology, Forensic Science |
| 🌐 PhD Programs | Biotechnology, Forensic Biotechnology |
| 📝 Application | Visit School of Post-Graduate Studies, Ahmadu Bello University Zaria |
| 💼 Career Pathways | Biotechnology, Forensics |
Dive into the ACENTDFB's Stellar Academic Offerings
The centre's commitment to excellence is clearly reflected in its diverse and meticulously curated degree programs. These are designed to cultivate experts and scholars in biotechnology and forensic science, equipping them to tackle some of the most pressing challenges in contemporary health and forensic research.
Post-graduate Programs:
Post-graduate Diploma in Forensic Biotechnology: A stepping stone into the world of forensic studies, offering a blend of biotechnology expertise.
MSc Biotechnology: Dive deep into the transformative world of biotechnological research and applications.
MSc Forensic Science: Master the art and science behind crime scene investigations, forensic analysis, and evidence interpretation.
Forensic Program: A holistic exploration of forensic studies, from evidence gathering to laboratory analysis.
Doctorate Programs:
PhD Biotechnology: Aimed at those seeking to make ground-breaking contributions to the world of biotech research.
PhD Forensic Biotechnology: An interdisciplinary approach, amalgamating biotechnological methods with forensic analyses.
Embarking on Your ACENTDFB Journey
For those eager to contribute to this dynamic field and be part of the ACENTDFB's academic community, the application process is straightforward.
To enroll in any of the illustrious programs, all one needs to do is head to the School of Post-Graduate Studies at Ahmadu Bello University Zaria. More detailed information and application procedures can be accessed directly through their official portals:
In closing, for students and researchers keen on pioneering advancements in neglected tropical diseases and the nuanced world of forensic biotechnology, the ACENTDFB offers an unparalleled platform. It's not just an institution; it's a movement driving change.
I hope you find this article helpful.