Adamawa State Scholarship Trust Fund 2023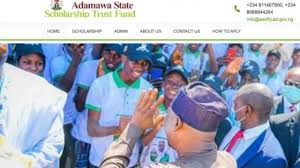 Adamawa State Scholarship Trust Fund 2023: Investing in Education for a Brighter Future. This scholarship program is designed to support talented individuals who may face financial constraints, ensuring that they have equal opportunities to excel academically.
The Adamawa State Scholarship Trust Fund is a commendable initiative that aims to empower deserving students in Adamawa State, Nigeria, by providing them with financial assistance to pursue their educational aspirations.
The Adamawa State Scholarship Trust Fund plays a crucial role in advancing the educational landscape of Adamawa State. By providing scholarships, it creates an enabling environment where bright and motivated students can pursue higher education without being hindered by financial limitations. This initiative ensures that talented individuals have equal access to quality education, regardless of their socioeconomic background, ultimately leading to the overall development and progress of the state.
ADAMAWA STATE SCHOLARSHIP TRUST FUND BENEFITS 
Financial Assistance: The scholarship program offers financial support to eligible students, covering various educational expenses such as tuition fees, textbooks, accommodation, and other related costs. This alleviates the financial burden on students and enables them to focus on their studies.
Merit-Based Selection: The Adamawa State Scholarship Trust Fund 2023 prioritizes meritocracy, selecting recipients based on their academic achievements, leadership potential, and extracurricular activities. This encourages healthy competition among students, motivating them to strive for excellence.
Skill Enhancement: Apart from financial aid, the program also provides opportunities for skill enhancement through workshops, seminars, and mentorship programs. This holistic approach equips students with the necessary tools to succeed not only academically but also in their future careers.
Networking and Community Building: Scholars under the program have the opportunity to connect and network with fellow scholars, mentors, and professionals, fostering a sense of community and support system. These networks can be invaluable for personal and professional growth.
ADAMAWA STATE SCHOLARSHIP TRUST FUND APPLICATION PORTAL 2023
The State Scholarship Trust Fund Yola would like to let native Adamawa State students who are enrolled in various tertiary institutions throughout Nigeria know that its web portal will be accessible for local scholarship applications in 2023 from July 3 to August 7.
The Adamawa State Scholarship Trust Fund Web Portal was created to aid in automating the screening of student applications for local, international, and special abroad (aviation and other) scholarships as well as the application process itself.
HOW TO APPLY 
interested applicants should Kindly Visit the Website https://www.asstfy.ad.gov.ng/ for other Details Or Click Here to Apply Directly.
Note: Only new intake in the following categories are eligible:
1. NCE
2. ND 1
3. HND 1
4. 100 level, or 200 level (DE only)
I hope you find this article helpful.