The iPhone 14, iPhone 14 Max, iPhone 14 Pro, and iPhone 14 Pro Max are Apple's 2022 iPhone Series. The 4 Models were revealed at an event that was held on September 7th, 2022.
iPhone 14 Max, iPhone 14, iPhone 14 Pro, and iPhone 14 Pro Max were released on September 7th, 2022. These iPhones have started selling across various countries.
Colors of iPhone 14 and iPhone 14 Max
How hot are the iPhone 14 Models? For the iPhone 14 and 14 Max models, we expect the following color versions:
Midnight (Black)
Starlight (White)
Sky Blue
Red
Purple
Green
Will there be Golden iPhone 14 Max Color? If the expected iPhone colors above hold, then it means there will not be Gold iPhone 14 Max and iPhone 14.
Colors of iPhone 14 Pro and iPhone 14 Pro Max
iPhone 14 Pro and Pro Max rumored colors:
Graphite
Silver
Gold
Purple 
Green
How does it feel using a green iPhone? I am eager to know how you feel about the green color.
iPhone 14 Models Displays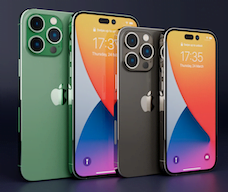 The following are screen sizes of the 2022 iPhones lineups:
iPhone 14 – 6.1 Inches Display
iPhone 14 Max – 6.7 Inches Screen
iPhone 14 Pro – 6.1 Inches (i-shaped punch-hole display)
iPhone 14 Pro Max – 6.7 Inches (i-shaped punch-hole display)
The iPhone 14 Pro models will feature LTPO OLED screens with a 120Hz refresh rate, whereas the more affordable non-Pro versions will merely come with your standard 60Hz  OLED displays.
Recommended: Apple iPhone 13
iPhone 14 Price
How much is an iPhone 14? The iPhone 14 anticipated prices are as follows:
Brand New iPhone 14 starts at $799-$899
New iPhone 14 Max costs from $899-$999
Brand New iPhone 14 Pro starting price is $1099-$1199
The iPhone 14 Pro Max costs from $1199-$1299
Proposes iPhone 14 Series Prices in different countries currencies are:
The price of an iPhone 14 in EURO is from €778
What is the Cost of the iPhone 14 in Nigerian Naira? Starting From ₦500,000
What is the price of the iPhone 14 in Japanes Yen Like? From ¥107,000
The cost of the iPhone 14 series 2022 in Philippine peso is from ₱45,000
The cost of iPhone 14 models in Swiss franc is

755

 

Swiss Franc

How much Apple iPhone 14 models sell in Chinese renminbi (CNH) is from ¥5,400
After customs charges and other international charges and tariffs, the cost of iPhones will be higher than the announced prices in most countries. When will iPhone 14 max start selling? About one month after release.
Apple iPhone 14 Camera
As per famed Apple insider Ming-Chi Kuo, Apple is planning a massive camera upgrade for the iPhone 14 family. Notably, Apple is planning to bring a new and much larger sensor for the main camera, a massive 1/1.3-inch 48MP sensor. This sensor is expected to grace the top-tier iPhone 14 Pro and Pro Max flagships.
The main wide-angle camera is the most likely to benefit from the larger sensor first, though the improved camera tech would likely trickle down to the ultra-wide and telephoto cameras in subsequent iPhones down the line. Of course, the Pro models will always be one step ahead.
"We believe that the new 2H22 iPhone may support direct 48MP output and 12MP (four cells merge output mode) output simultaneously," says Ming-Chi Kuo. "With 12MP output, the CIS pixel size of the new 2H22 iPhone increases to about 2.5um, which is significantly larger than the iPhone 12 and iPhone 13 and larger than existing Android phones, and close to the DSC level."
Apple iPhone 14 Software and Hardware
RAM
RAM is obviously the Random Access Memory. According to a reliable source, both the iPhone 14 and iPhone 14 Pro models will feature 6GB RAM.
iPhone 7+ RAM is 3GB
iPhone 8+ RAM is 3GB
iPhone X RAM is 3GB
iPhone XS Max RAM is 4GB
iPhone 11 Pro Max RAM is 4GB
iPhone 12 Pro Max RAM is 6GB
iPhone 13 Pro Max RAM is 6GB
A16 Chip
The latest iPhones come with the latest Apple Chip. This time, Apple A16 Processor.
According to Apple analyst Ming-Chi Kuo, only the iPhone 14 Pro models will get a new and faster A16 chip. Kuo says that the standard iPhone 14 models will continue to use the same A15 Bionic that's in the iPhone 13 models.
Storage?
With the iPhone 13 Pro models, Apple added a new 1TB storage tier, and rumors suggest that with the iPhone 14 upgrade, Apple could increase that even further to 2TB.
Notes: This rumor comes from a source that's not always accurate.
Software
The iPhone 14 family will come with iOS 16 on board. Apple previewed the software on stage at WWDC'22. The following are some hot cake features of iOS 16:
Lockscreen customization with widgets, animated images, and cleaner notifications
More filters for Focus Mode
Edit and Undo Send, Mark as Unread in iMessage
SharePlay in iMessage
Improved voice dictation with an on-screen keyboard
Quick Actions with text captured from the camera
Photos – lift subject from the background with Siri Knowledge
Share digital keys in Wallet.
Battery and Charging
The New iPhone 14 series are going to be packed with super battery life. They stand to be the best battery on any Phone.
The latest rumors about the iPhone 14 battery sizes are in, and it seems that batteries are growing all across the board, with the exception of the iPhone 14 Pro Max, which will be getting a slightly smaller battery in comparison with its direct predecessor. 
The iPhone 14 will reportedly be getting a 3,279mAh battery, which is mostly similar to its predecessor's one, while the iPhone 14 Pro will be getting a 3,200mAh battery cell, a 105mAh increase over the iPhone 13 Pro. 
As mentioned, the iPhone 14 Pro Max could be coming our way with a 4,323mAh battery, some 30mAh less than what we had in the iPhone 13 Pro Max.
You may be wondering, should I upgrade from my iPhone XS Max to the hot are the iPhone 14 Models? XS Max is one of the best iPhones ever made and it is still much relevant.
Should I upgrade my iPhone 6+ to iPhone 14 Max? Lol. Yes, should should right now if money isn't a problem. Did you find this helpful?