Apply For Uni:innovators Startups-In-Residence Program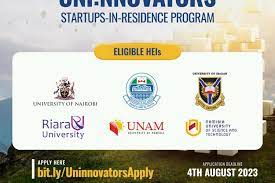 Co-Creation Hub has announced the call for applications for the Uniinovators Startup-in-Residence program designed to inspire innovations in selected tertiary institutions in Africa – namely, the University of Ibadan (Nigeria), University of Lagos (Nigeria), University of Nairobi (Kenya), Riara University (Kenya), University of Namibia (Namibia) and Namibia University of Science and Technology (Namibia).
The program will support 30 student-led innovations from the aforementioned universities in an effort to sustain and accelerate the participation of academia in the innovation ecosystem in Africa. Eighteen of these student-led teams who scale through after a pitch demonstration will participate in a knowledge exchange with leading researchers in their fields and get the opportunity to travel to Germany for physical sessions to help to strengthen their prototypes. They will then receive funding and advisory services towards building and deploying their MVPs in the marketplace and in partnership with the industry where applicable.
The Uniinnovators Startups-in-Residence program will be administered by Co-creation Hub (CcHUB) with Make-IT in Africa, a project implemented by Deutsche Gesellschaft für Internationale Zusammenarbeit (GIZ) GmbH on behalf of the German Federal Ministry for Economic Cooperation and Development (BMZ).
READ ALSO: SINGAPORE INTERNATIONAL GRADUATE AWARD (SINGA)
Eligibility
Student: You must be a student at one of the universities listed above.
Degree: You must specify whether you are pursuing a Bachelor's, Master's, or Doctorate degree.
Travel: You must be able to travel both within and outside of your nation, and you must have a valid passport by the date of travel.
Creativity and Innovation: Your proposal must be innovative and one-of-a-kind, ideally based on research.
Viable and Feasible: Your proposal must be realistic and reasonable, i.e. it must solve a specific need for a small group of clients in a large market.
Scope: Your idea must fit within the parameters of the challenge as outlined in the program summary.
Team: The ability or skill set required to implement the proposed solution.
Timeline:
Design Sprint (6 weeks): Participants will attend three workshops separated every two weeks over the course of six weeks. These courses will concentrate on concept generation, design thinking, and human-centered methods for designing solutions and prototyping.
Each team will get the opportunity to showcase their solutions and prototypes to a panel of industry professionals, including investors, industry stakeholders, and members of the university community, on Demo Day. Only 18 of the 30 startup teams will advance to the next stage of the program.
Knowledge Exchange & Trip to Germany: In collaboration with Make-IT in Africa, CcHUB will identify renowned research institutes and HEIs in Germany that are interested in providing research mentorship for the startup teams' fields of concentration.
SEE ALSO
AWIEF launches USAID-funded Enhanced Small Medium Enterprises Investment and Export Readiness Through a Digital Platform
Industry Deployment Sprint (8 Weeks): The 18 selected businesses will have the opportunity to work and live in innovation hubs on their campuses for two months, during which we will work directly with them to deploy their solutions to the market for actual clients.
Finally, a great demo day and summit will be held in Nairobi, Kenya, where all 18 startups from all three countries will pitch a demonstration of their product or service, the momentum they have garnered in the marketplace, and projections for their startups. For More Information: Visit the Official Webpage of the Co-Creation Hub/GIZ Make-IT in Africa Uni: innovators Startup-in-Residence Program Deadline: 4th of August, 2023.
I hope you find this article helpful.