Ashesi-ETH Masters In Mechatronic Engineering 2023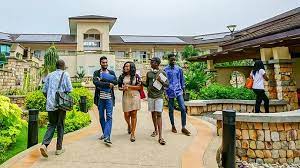 This is to inform the general public that the application for Ashesi-ETH Masters Scholarship 2023/2024 Application Portal is now open for all eligible applicants who may be interested in the postgraduate program.
In a collaborative venture between Ashesi University, Ghana, ETH Zurich, Switzerland, and industry partners, applications for the prestigious Ashesi-ETH Masters in Mechatronic Engineering 2023 have opened. With operationally-present industry input, this program aims to equip graduates with specialized competencies and a comprehensive skill set in the exciting and dynamic field of Mechatronic Engineering.
A Gateway to the Future of Engineering
Mechatronic Engineering is a multidisciplinary field presenting a promising future with diverse applications in robotics, manufacturing, automation, automotive engineering, aerospace, healthcare, agriculture, leisure, entertainment, and much more. This program is an opportunity for students to tap into their potential in this evolving field.
The program encourages the amalgamation of theory and practice, offering students opportunities for industrial internships and Master project work tailored to their interests and career aspirations. With teaching and training under the guidance of renowned experts from academia and industry, graduates are expected to receive direct job offers from world-leading industry partners including ABB, Barry Callebaut, Bühler, HPW, Holcim, Nestlé, and Tetra Pak.
Program Structure: Building Skills for Industry Excellence
Advanced Core Modules: Offering foundational knowledge on mechanical systems design and analysis, alongside programming and deployment of embedded devices for various industrial sectors.
Mechatronics and Control Modules: Facilitates understanding of robotic and control system solutions, including data-driven and machine-learning techniques.
Energy and Production Systems: Deepens understanding of renewable energy technologies, propulsion systems, and process chain planning.
Engineering in Perspective: Provides context to technical knowledge, honing leadership skills, public policy understanding, and corporate social responsibility for sustainable industrial development in Africa.
The final year comprises an internship to apply learned skills and a Master's thesis for professional projects and research experience.
Benefits: A Package of Opportunities
Full coverage of tuition and other academic fees
Laptop and equipment, accommodation, and health insurance
A monthly stipend and one trip home per year
Onboarding period with scholarship provider for students funded by industry partners, followed by mentorship and industrial internship
On completion, dual-degree certification: Master of Advanced Studies (MAS) from ETH Zurich and a Master of Science (MSc) from Ashesi University.
Eligibility: A Call to Aspiring Engineers
Open to Africans
Applicants must hold a BSc or MSc in Electrical, Electronic, Computer, Mechanical, Process, Mechatronic Engineering, or related fields.
Second Class Upper or better
Academic-level proficiency in English.
Selection Criteria
Academic Qualifications
Curriculum Vitae
Extracurricular Achievements
Working/Internship Experience
Demonstration of Motivation
How to Apply: Embark on an Engineering Adventure
The application deadline is set for July 30, 2023, with rolling admissions in place, so it's advised to apply early!
For more information, visit Ashesi-ETH Master Program.
The Ashesi-ETH Masters in Mechatronic Engineering 2023 offers a unique and comprehensive platform for the next generation of engineers. With a host of benefits and opportunities for real-world exposure, it stands as a doorway to the promising future of African engineering.
I hope you find this article helpful.