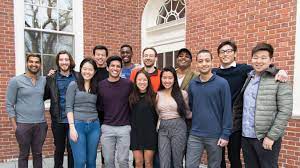 Events
Trainings & Fellowships
 Location(s)
 Overview
The Radcliffe Institute Fellowship Program annually selects and supports 50 leading artists and scholars who have both exceptional promises and demonstrated accomplishments.
 Details
Radcliffe fellows are exceptional scientists, writers, scholars, public intellectuals, practitioners, and artists whose work is making a difference in their professional fields and in the larger world.
Based in Radcliffe Yard—a sanctuary in the heart of Harvard University—fellows join a uniquely interdisciplinary and creative community. A fellowship at Radcliffe is an opportunity to step away from usual routines and dive deeply into a project. With access to Harvard's unparalleled resources, Radcliffe fellows develop new tools and methods, challenge artistic and scholarly conventions, and illuminate our past and our present.
Throughout the year, fellows convene regularly to share their work in progress. Coming from diverse disciplines and perspectives, they challenge each other's ideas and support each other's ambitions. Many say that it is the best year of their professional lives.
Our online application for the 2024–2025 fellowship year is now available:
The deadline for applications in humanities, social sciences, and creative arts is September 14, 2023. 

The deadline for applications in science, engineering, and mathematics is October 5, 2023.
 Opportunity is About
---
Administration
Agriculture, Biology & Animal Science
Architecture & Construction
Design & Graphic Design
Chemistry
Computers & IT
Economics & Business
Education
Energy
Engineering
Environment
Geography & Outer Space
History & Anthropology
Human Rights
International Affairs
Languages
Law
Media, Marketing & PR
Medicine, Nursing & Psychology
Military & Security
Physics & Math
Politics
Religion
Society
Sport & Fitness
Arts, Video & Photography
Tourism & Hospitality
Transportation
 Eligibility
Candidates should be from:
---
Afghanistan
Albania
Algeria
Andorra
Angola
Antigua and Barbuda
Argentina
Armenia
Australia
Austria
Azerbaijan
Bahamas
Bahrain
Bangladesh
Barbados
Belarus
Belgium
Belize
Benin
Bermuda
Bhutan
Bolivia
Bosnia and Herzegovina
Botswana
Brazil
Brunei
Bulgaria
Burkina Faso
Burundi
Cambodia
Cameroon
Canada
Cape Verde
Central African Republic
Chad
Chile
China
Colombia
Comoros
Congo: Democratic Republic
Congo: Republic
Cook Islands
Costa Rica
Croatia
Cuba
Cyprus
Czech Republic
Denmark
Djibouti
Dominica
Dominican Republic
East Timor
Ecuador
Egypt
El Salvador
Equatorial Guinea
Eritrea
Estonia
Ethiopia
Fiji
Finland
France
Gabon
Gambia
Georgia
Germany
Ghana
Gibraltar
Greece
Grenada
Guatemala
Guinea
Guinea-Bissau
Guyana
Haiti
Honduras
Hong Kong
Hungary
Iceland
India
Indonesia
Iran
Iraq
Ireland
Israel
Italy
Ivory Coast
Jamaica
Japan
Jordan
Kazakhstan
Kenya
Kiribati
Korea, North
Korea, South
Kosovo UN1244 (*not recognized by majority of countries)
Kuwait
Kyrgyzstan
Laos
Latvia
Lebanon
Lesotho
Liberia
Libya
Liechtenstein
Lithuania
Luxembourg
Macau
North Macedonia
Madagascar
Malawi
Malaysia
Maldives
Mali
Malta
Marshall Islands
Mauritania
Mauritius
Mexico
Micronesia
Moldova
Monaco
Mongolia
Montenegro
Morocco
Mozambique
Myanmar
Namibia
Nauru
Nepal
Netherlands
New Zealand
Nicaragua
Niger
Nigeria
Niue
Norway
Oman
Pakistan
Palau
Palestinian Authority
Panama
Papua New Guinea
Paraguay
Peru
Philippines
Poland
Portugal
Puerto Rico
Qatar
Romania
Russia
Rwanda
Saint Kitts and Nevis
Saint Lucia
Saint Vincent and the Grenadines
Samoa
San Marino
Sao Tome and Principe
Saudi Arabia
Senegal
Serbia
Seychelles
Sierra Leone
Singapore
Slovakia
Slovenia
Solomon Islands
Somalia
South Africa
South Sudan
Spain
Sri Lanka
Sudan
Suriname
Swaziland
Sweden
Switzerland
Syria
Taiwan
Tajikistan
Tanzania
Thailand
Togo
Tonga
Trinidad and Tobago
Tunisia
Turkey
Turkmenistan
Tuvalu
Uganda
Ukraine
United Arab Emirates
United Kingdom
United States of America
Uruguay
Uzbekistan
Vanuatu
Vatican City
Venezuela
Vietnam
Western Sahara
Yemen
Zambia
Zimbabwe
 Description of Ideal Candidate
Applicants may apply as individuals or in a group of two to three people working on the same project. We seek diversity along many dimensions, including discipline, career stage, race and ethnicity, country of origin, gender and sexual orientation, and ideological perspective. Although our fellows come from many different backgrounds, they are united by their demonstrated excellence, collegiality, and creativity.
We welcome applications from a broad range of fields and perspectives. The strength of our fellowship program is its diversity.
The following areas are of particular interest:
Radcliffe supports engaged scholarship. We welcome applications from scholars, artists, and practitioners proposing innovative work that confronts pressing social and policy issues and seeking to engage audiences beyond academia.
We welcome proposals relevant to the Institute's focus areas, which include:

Law, education, and justice
Climate change and its human impacts, especially projects that address the disproportionate impacts of the climate crisis on marginalized or under-resourced communities
Legacies of slavery
Reflecting Radcliffe's unique history and institutional legacy, we welcome proposals that focus on women, gender, and society or draw on the Schlesinger Library's rich collections.
Reflecting Radcliffe's unique history and institutional legacy, we welcome proposals that focus on women, gender, and society or draw on the Schlesinger Library's rich collections.
Interdisciplinary exchange is a hallmark of the Radcliffe Fellowship, and we welcome proposals that take advantage of our uniquely diverse intellectual community by engaging with concepts and ideas that cross disciplinary boundaries.
Evaluation Criteria
Applications are evaluated on the quality and significance of the proposed project and the applicant's intellectual and creative capacity, as evidenced by a strong record of achievement or extraordinary promise. We seek diversity along every dimension, including geography, ethnicity and race, stage in career, and ideological perspective.
Each application is reviewed in a two-tiered process–first by experts in the relevant field, then by a multidisciplinary committee charged with selecting a diverse class of fellows of the highest achievement and potential. Project proposals should be original, well-conceived and developed, accurately described, and feasible.
As a uniquely multidisciplinary community, we highly value collegiality and openness to cross-disciplinary conversation. Evidence of collaborative and/or multidisciplinary work is a valued addition to the application.
Applicants will be notified of the results of the selection process by the end of March 2024.
---
 Dates
Deadline: October 05, 2023
 Program starts:
September 01, 2024
 Program ends:
May 01, 2025
---
 Cost/funding for participants
Program Details
Harvard Radcliffe Institute fellows are in residence for a period of nine months from September 1, 2024, through May 31, 2025, and receive a stipend of $78,000 plus an additional $5,000 to cover project expenses. Fellows are expected to be free of their regular commitments so that they may fully devote themselves to the work outlined in their proposal.
As this is a residential fellowship, fellows are expected to reside in the Greater Boston area for the duration of their fellowship. Fellows may be eligible to receive additional funds for moving expenses, childcare, and housing to aid them in making a smooth transition. Healthcare options are made available as needed.
Harvard Radcliffe Fellows receive office or studio space in Byerly Hall and full-time Harvard appointments as visiting fellows, granting them access to Harvard University's various resources, including libraries, housing, and athletic facilities. If fellows would like to hire Harvard undergraduate students as Research Partners, we will cover their hourly wages.
Fellows are expected to engage actively with their colleagues in their cohort and to participate fully as a member of the Harvard Radcliffe community. To this end, all fellows present their work-in-progress, either in the form of a private talk for their cohort or a public lecture, in addition to attending the presentations of all other fellows during that academic year (up to two talks per week). We offer group lunches and other opportunities to connect with members of your cohort, but attendance at these is optional.
I hope you find this article helpful.