It's become increasingly common for businesses of all sizes to expand globally and collaborate with professionals who share different backgrounds. This is partly due to the rapid advancement of technology, which makes it easier for you to instantly communicate with people from various communities, countries and cultures. If you work in a company that conducts business all over the world, it might benefit you to prepare for the responsibilities of a global leadership position. In this article, we explain what a global leader is and provide eight tips to become more effective in the role.
What is a global leader?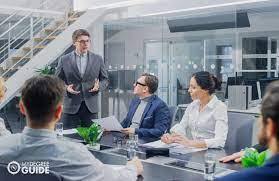 A global leader is a professional in any private, public or non-profit organization who creates positive global change in multicultural and international contexts. They listen to the needs of multiple communities, help local and international offices network with each other and use their work to create social and economic value. Global leaders often share many of the following responsibilities:
Communicating with internal and external clients from multiple countries.

Communicating with foreign vendors and suppliers.

Speaking in multiple languages.

Budgeting for all of a company's offices worldwide.

Negotiating contracts with professionals from other countries.

Creating business plans that consider global market trends.
8 tips for global leaders
Here are eight tips to help you become a more effective global leader:
1. Create long-term goals
Global leaders take short-term actions to work toward long-term goals. For example, if you have a long-term goal to expand into a new geographical market, you might create a list of short-term goals for your marketing team to follow when they create international marketing campaigns. Prioritizing long-term goals is often safer, since you have more time to consider the trends of your market, anticipate risks from competitive companies and prioritize the company's long-term objectives. Here are some strategies you can follow to create helpful long-term goals:
Use the mission statement of the company to guide your long-term goals.

Follow the GOSPA Formula, which stands for, "Goals, objectives, strategies, priorities and activities."

If your goal is to increase revenue, be specific about what numbers you want to achieve and how.

Collaborate with members from outside teams, and ask the opinions of stakeholders.
2. Be patient
Working toward business goals at a reasonable pace can often lead to improved company reputation, customer satisfaction and increased sales. For these reasons, global leaders need to remain calm when planning strategies, organizing projects and networking with other executives. For example, a patient leader might prioritize the energy of team members by extending a project deadline, instead of forcing them to complete a lot of work in a short amount of time. There are some strategies to use patience in a professional setting, including:
When you struggle to find a solution, seek the perspective of a trusted expert.

Consider the needs of each team member before making a decision that will affect them.

Try to create opportunities out of unexpected events.

Remain unbiased when making major decisions, and calmly communicate about why specific team members might make different choices from you.
3. Build partnerships
Partnering with professionals from another business can be an effective way to limit risks, save resources and share management responsibilities. Conducting business across the globe is often easier when you create partnerships with vendors, competitive businesses and organizations in outside industries. For example, you might partner with a competitor to expand both of your demographics, to create a product that merges both of your brands and to endure through challenging market conditions. Here are some ways you can plan for a global business partnership:
If you want to partner with a business in another country, understand what business practices the country's legal system supports.

Research each company's etiquette for hosting meetings and negotiating contracts.

Consider how your business practices will interact with another country's common business practices.

Choose company representatives who travel internationally and like learning about new cultures.

Look for partners who share the values of the company you work for.4. Be an effective communicator
Using effective communication can motivate staff members, clients and stakeholders because you help them better understand your business goals. Global leaders express their thoughts in a clear, persuasive and easy-to-understand way while navigating conversations in multiple languages or with the help of a translator. For example, you might want to tell someone about a product's return on investment, but it's important to consider whether the meaning of "return on investment" is apparent after translation. There are some methods to improve your communication across multiple cultures, including:
Create an anonymous format for staff members and clients to provide feedback on your communication strategies.

When using the help of a translator, consider limiting your use of local English expressions and idioms.

Create a common corporate language so that professionals in the company can describe their processes and strategies in the same way.

Understand how professionals in each culture feel about casual conversation and include or exclude it in business proceedings as needed.

Create multilingual content that considers the languages and cultures of each target audience.
5. Be inclusive
Being inclusive means creating an environment where professionals from diverse backgrounds feel like you value, understand and listen to them. Global leaders who practice inclusivity remember the circumstances of the people they work with, recognize them for their accomplishments and appreciate their unique perspectives. For example, you can be more inclusive by ensuring that you invest in training and advancement for professionals of all cultures and nationalities. Here are some other ways to make inclusive decisions in your global leadership:
Research each culture's common habits, routines and holidays before traveling to a new country.

Read literature that teaches you how to prevent implicit bias.

Ensure that each team member gets an opportunity to express their opinion, and factor their opinions into your work.

Understand how your own culture informs your ideas, beliefs and behaviors.
6. Be curious
Leaders who remain curious are more likely to learn new skills and try new strategies to accomplish the goals of a company. If you want to perform executive-level work internationally, it can help to continually educate yourself and seek opportunities to learn. For example, if you expect to network with clients in Argentina, you might benefit from learning some Rioplatense Spanish. Some other subjects you can study throughout your career as a global leader include:
Learning how the economic and legal systems work in different countries.

Learning about important events and businesses in a client's area.

Researching what leadership style is most effective in the work culture of each company.

Reading about how to adapt marketing and branding strategies to new target audiences.
7. Get overseas experience
If you want to plan for a career working abroad, you might be more comfortable if you become familiar with living in other countries. To prepare for different professional environments, global leaders often study and live overseas for long periods. This is helpful because you can witness how executives in other countries conduct business in person, and you might understand a region's culture easier if you immerse yourself in it. You can gain some overseas experience by doing the following:
If you work for a company with global business dealings, you can ask for responsibilities that involve visiting other countries.

You can take a gap year between getting your degree and seeking a leadership position, or between jobs.

You can get an international internship in your area of study.

You can search for volunteering opportunities in other countries.
8. Be authentic
Authenticity happens when you're honest about who you are, the goals of the company you work for and your objectives. When you characterize yourself as authentic, it can cause people to perceive the company you work for in the same way. For example, if you gain a reputation as a leader who uses feedback to improve a company's products, executives and stakeholders might assign a similar reputation to the company. Here are some ways you can become more authentic in your business conduct:
Be honest about what projects you can complete, and when you can complete them.

Be aware of your biases, and learn to limit them in business settings.

Be comfortable sharing your appropriate interests and hobbies.

Tell clients the true story of how you got into your role.
I hope you find this article helpful.