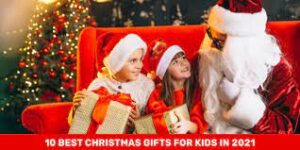 Christmas gifts and kids are like a hand in a glove. Nothing is more gratifying for a parent than to watch their child happily open the presents you picked for them. And for a child, there's nothing better than receiving gifts, ripping open that wrapping paper, and finding something they love. But that's the key. It has to be something kids will enjoy.
In this article we would be looking at Best 10 Christmas Gifts for Kids 2022.
LittleLens Kids Digital Camera
With a design for little hands, this toy camera is the perfect kid's gift. Taking pictures is an ideal outlet for expression, learning creativity, and essential motor skills. Easy to hold and easy to carry, any child will love playing with this fun, lightweight toy. Treat someone special to this entertaining LittleLens Kids Digital Camera!
Kids Walkie Talkie (3-Piece Set)
A fun set of three, these colorful long distance walkie-talkies are the perfect adventure toy. Thanks to a high anti-interference function and long transmitting range, they make activities like indoor/outdoor games, hiking, or camping way more fun. Gift your child this exciting Kids Walkie Talkie set!
Educational Garden Building Flower Toys
This garden toy is a must for creative kids! Setting up each flower bouquet makes children tap into their most creative and imaginative skills, enhancing their taste in unique aesthetics and design. Kids will love assembling this colorful toy. Stimulate your child's creativity with these colorful Educational Garden Building Flower Toy.
Kids Instant Print Camera
Keep an eye on your little one while they snap away! This polaroid camera has original frames and animations that make the process fun. Watch them grow excited as their pictures are printing before their eyes, all thanks to this captivating toy for kids aged 3+. The ergonomic design makes it easy to hold or carry around, which makes it a perfect toy for creating memories anytime. Surprise your child with this Kids Instant Print Camera!
Flying Led Lights Magic Ball
This super engaging ball toy is a blast for any child! Thanks to highly-sensitive drone technology, kids can make it fly by just using their hands. It's ideal for developing quality motor skills and confidence, thanks to obstacles encountered while playing. Gift your child this super fun Flying Led Lights Magic BaDISCOVER FLYING BALL
Colorful LCD Writing and Drawing Tablet
Ideal for indoor or outdoor use, this toy is one of the best writing tablets for kids. They'll find drawing on the digital board engaging and exciting while they explore their imagination and thinking skills bringing each idea to life. It's perfect for developing kids' creativity via a fun experience. Gift your child with this Colorful LCD Writing and Drawing Tablet!
Giant Jelly Balloon Ball
This Bubble Ball is a great way for kids of all ages to get active while they're outside. They can also take it with them anywhere because it's inflatable. They're perfect for running, jumping and bouncing around. If they fall, you don't have to worry about them getting hurt because this ball is made of soft material. Bond with your kids outdoors with this Giant Jelly Balloon Ball!
Bracelet-Making Kit For Kids
Fun designs and pieces make this creative toy for kids a perfect gift. Children will play for hours, developing essential motor skills and creativity while they put together different bracelets. So not only do they receive a gift, but they learn and create new ones for others. Treat your child to this super entertaining Bracelet-Making Kit For Kids!
Educational Wooden Cartoon Chess Set
Challenges are fun too! Besides being extra entertaining, this wooden chess set is ideal for challenging children to interact with others while developing essential skills and intelligence. So what may seem like another fun game is also a high-quality educational toy. With unique cartoon designs, any child will enjoy it. Gift this Educational Wooden Cartoon Chess Set
Kids Explorer Kit
Any adventurous child will love this entertaining toy set. Including the Little Lens Kids Camera, Kids Binocular, and Sun Safe Glasses, it's the perfect bundle of fun for any child with the spirit of an explorer. It's ideal for children to discover their surroundings and creativity while safely playing outdoors. Surprise your child with this fun Kids Explorer Kit.
So there you have it. Ten quality toy options provide fun and engaging experiences. But also help develop essential skills in children, such as imagination, creativity, and basic motor skills that will last them for life. The best part? They'll be having so much fun they won't even realize it. Which one do you think is the best fit for your child?
I hope you find this article helpful as well as interesting.