Best Solution Polytechnic Post UTME Screening Form 2023/2024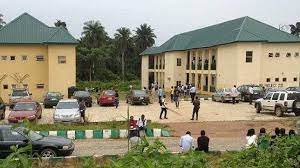 Best Solution Polytechnic, Akure (BESTPOTECH) announces the sale of its Post UTME screening forms for the 2023/2024 academic session. Prospective ND students can view courses and facilities offered. Applications are available online and forms can be picked from the campus for N6,000. For inquiries, call 07019188888 or 08139075274.
Best Solution Polytechnic (BESTPOTECH), an institution located in Akure, Ondo State, is elated to announce the commencement of its application process for the Post UTME screening geared towards the 2023/2024 academic session. This is a golden opportunity for aspirants desiring to earn a National Diploma (ND) from a reputable polytechnic.
| | |
| --- | --- |
| 📢 Announcement | BESTPOTECH Post UTME Screening Form 2023/2024 |
| 🎓 Institution | Best Solution Polytechnic, Akure, Ondo State |
| 📆 Session | 2023/2024 Academic Year |
| 📘 Available Programmes | ND in Science Lab Tech, Computer Science, Accountancy, Business Admin, Electrical/Electronics, etc. |
| 🌐 Application Portal | www.bestpotech.edu.ng |
| 💰 Application Fee | N6,000 |
| 📞 Enquiries | Call: 07019188888, 08139075274 |
| 🏢 Facilities | Library, Computer Room, Vocational Training, Labs, Halls, etc. |
Programs on Offer
Candidates Eligible for Best Solution Polytechnic Post UTME Screening
UTME Candidates who chose Best Solution Polytechnic as first/second choice institution or seeking a change of institution to Best Solution Polytechnic through JAMB, having scored a minimum of 120 in the 2023 UTME.
NB: Only applicants, who have chosen or changed to through JAMB and whose details appear on the Poly profile on the JAMB CAPS will be considered for admission.
BESTPOTECH Available Courses
NATIONAL DIPLOMA
School of Business and Management Studies

Department of Accounting
Department of Business Administration and Management

School of Engineering Technology

Department of Electrical and Electronics Engineering
Department of Computer Engineering

School of Science

Department of Computer Science
Department of Science Laboratory Technology

School of Social Science and Communications Studies

Department of Mass Communication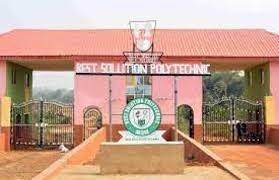 ORDINARY NATIONAL DIPLOMA
Public Administration
Marketing
Office Management Technology
Legislative and Management Studies
Local Government Studies
Criminology Studies
BESTPOTECH offers an array of courses spread across different schools in the institution. These programs have been tailored to equip students with the requisite knowledge and skills in their chosen fields.
School of Applied Science & Information Technology
Science Laboratory Technology: Dive deep into the world of scientific exploration and analytical skills.
Computer Science: Equip yourself with in-depth knowledge of computer systems, software, and applications.
Accountancy: Master the art of financial management, audit, and fiscal procedures.
Business Administration & Management: Immerse yourself in the world of commerce, leadership, and entrepreneurial skills.
Electrical/Electronics Engineering: Delve into the intriguing world of electrical circuits, systems, and electronic applications.
Computer Engineering: Blend the realms of hardware and software in this dynamic course.
READ ALSO: TASCE POST UTME ADMISSION SCREENING
State-of-the-art Facilities
BESTPOTECH takes immense pride in its campus facilities. From academic structures to recreational spaces, every corner of the institution has been designed to foster a conducive learning environment.
Top-Class Facilities: An environment built to enhance the learning experience.
Reliable Power Supply: Say goodbye to interruptions with constant power.
Computer Resource Room: Stay updated with the latest tech tools.
Vocational Training: Skills beyond books – a perfect blend of theory and practice.
Well-Equipped Laboratories: Practical learning to bridge the gap between theory and real-world application.
Multipurpose Hall & Seminar Hall: Spaces for events, workshops, and collaborative engagements.
Library: Dive into a world of knowledge with vast resources at your fingertips.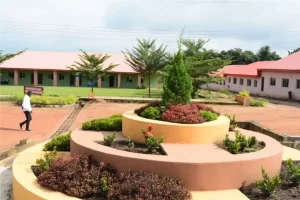 Application Process
For all aspirants eager to join the BESTPOTECH family, the application process is quite straightforward:
Visit the official BESTPOTECH website: www.bestpotech.edu.ng.
It's essential to make a personal visit to the polytechnic to obtain the application form. This tangible connection allows candidates to get a feel of the institution they aspire to join. The form is available for a token of N6,000.
Need Assistance?
Should you have queries or require further information, the dedicated team at BESTPOTECH is just a call away:
📞 07019188888, 08139075274
Do not sleep on this offer. Good luck to all the aspirants.
I hope you find this article helpful.