Applications are invited from suitably qualified candidates for admission into the College of Education Akwanga (COEAKWANGA) NCE programs for the academic session. In this all-encompassing guide, discover all the information you need to embark on a fulfilling educational journey at COEAKWANGA.
                  COEAKWANGA Post UTME Screening Guide 2023/2024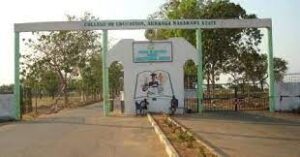 | | |
| --- | --- |
| 🎓 Programme | NCE programs at the College of Education Akwanga |
| ✅ Eligibility | 100+ in UTME, COE Akwanga as 1st choice |
| 🔄 Change of Institution | Apply if COE Akwanga is 2nd, 3rd or 4th choice |
| 💰 Application Fee | N2,322.50 via the central billing system |
| 🌐 How to Apply | Online via COE Akwanga website |
| ❌ Beware of Scammers | No offline application form sales |
| 🗓️ Screening Dates | Starts 7th August, Ends 7th September 2023 |
| 📝 Submission | Print BIO-DATA, attach photocopies, and submit to Admission Office |
About COE Akwanga
COE Akwanga is renowned for its commitment to providing quality education that shapes the future of its students. The institution's NCE programs are designed to offer a comprehensive curriculum, fostering growth, creativity, and innovation.
Eligibility for Post UTME
Before proceeding with your application, ensure you meet the following eligibility criteria:
Candidates who scored 100 and above in the 2023 UTME Examination and selected the College of Education, Akwanga as their 1st choice.
Candidates who chose the College as their Second, Third, or Fourth choice must apply for a Change of Institution, making College of Education, Akwanga their 1st Choice.
READ ALSO: PRECIOUS CORNERSTONE UNIVERSITY POST-UTME FORM
Application Process
Step 1: Account Creation & Invoice Generation
Log on to the College's official website, www.coeakwanga.edu.ng to create an account.
Generate an invoice for the application fee of two thousand three hundred and twenty-two naira fifty kobo (N2,322.50), including VAT.
Pay the amount through the central billing system (CBS).
Step 2: Application Form
Proceed to the application portal by clicking here.
Complete the application form with accurate details.
Print out the BIO-DATA form.
Step 3: Document Submission
Attach photocopies of your credentials to the printed BIO-DATA form.
Submit the documents to the Admission Office at the College of Education Akwanga.
Important Dates
Application Start Date: Monday, 7th August 2023
Application End Date: 7th September 2023
Important Notes & Advisories
Adherence to Instructions: Candidates are strongly urged to follow the above conditions strictly for a smooth application process.
Avoid Offline Sales or Purchases: Beware of scammers and refrain from sales or purchases of offline application forms from individuals or agents online.
In summary, COE Akwanga is not just an educational institution; it's a breeding ground for future educators and professionals. With its high standards, dedicated faculty, and innovative programs, it stands out as a prominent choice for aspiring scholars.
Now, with all the necessary information at your fingertips, the road to joining the ranks of COE Akwanga's esteemed students is clear. Remember to apply within the given timeframe and abide by the guidelines to ensure a successful application.
Should you have any questions or need assistance during the application process, don't hesitate to contact the college through their official website. Your dream of quality education is just a click away, so don't delay! Apply now and take the first step toward a brighter future.
I hope you find this article helpful.