Federal Polytechnic Idah, Kogi State cordially invites applications for a diverse array of Weekend/Part-Time Programs for the 2023/2024 Academic Session. This is an opportunity for individuals seeking to elevate their academic credentials and professional outlook.
Federal Poly Idah Weekend/Part-Time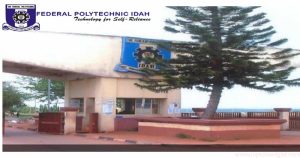 | | |
| --- | --- |
| 🎓 Institution | Federal Polytechnic Idah |
| 🕒 Program Duration | Varies: 6 months, 1 year, 2 years |
| 📜 Certificates | PD, ND, HND, Top-up ND, Top-up HND |
| 📚 Courses Offered | Multiple fields: Business Studies, Engineering, Environmental Studies, General/Administrative Studies, Technology |
| 💵 Application Fee | N15,000 |
| 🌐 Application Method | Online application |
| 📅 Closing Date | To be announced |
| 📞 Contact | Three phone numbers provided for enquiries |
Detailed Overview of Programs: Your Pathway to Higher Learning
Polytechnic Diploma (PD): A Six-Month Journey to Academic Excellence
This short yet enriching course offers a Polytechnic Diploma Certificate upon completion.
Part-Time National Diploma (ND): A Two-Year Commitment
This program, segmented into four semesters, culminates in the award of a National Diploma (ND).
Pre-HND: A One-Year Bridge to Advanced Studies
Prepare for your Higher National Diploma (HND) in one year, broken down into two semesters, and earn a National Diploma as an interim certification.
Part-Time Higher National Diploma (HND): Achieve Excellence in Two Years
An in-depth, four-semester program that results in a Higher National Diploma (HND).
Top-up ND: Rapid Academic Advancement in One Year
Acquire an ND with a good classification in a single academic session.
Top-up HND: Fast-Track Your Expertise in One Year
A one-year program aimed at achieving an HND with a good classification.
School Fees: Affordability Meets Quality
Rest assured, the school fees have been structured to be both moderate and affordable, accommodating a wide range of applicants.
Available Courses:
School of Business Studies: For the Budding Entrepreneurs
Accountancy
Business Administration and Management
Marketing
Office Technology and Management
Banking and Finance (ND only)
School of Engineering: Building the Future
Civil Engineering
Electrical Electronic Engineering (with options in Electronics & Telecommunications or Power & Machines) HND only.
Mechanical Engineering
Metallurgy Engineering
Mechatronics Engineering (ND only)
Welding & Fabrication (ND only)
School of Environmental Studies: Shaping Sustainable Spaces
Architectural Technology
Building Technology
Estate Management and Valuation
Quantity Surveying
Surveying and Geo-informatics
Urban and Regional Planning
Cartography (ND only)
School of General and Administrative Studies: Govern and Communicate
Public Administration
Mass Communication (ND only)
Local Government Administration (ND only)
Law (Polytechnic Diploma)
School of Technology: Innovate and Discover
Computer Science
Food Science and Technology
Library and Information Science
Science Laboratory Technology
Leisure & Tourism Management
Hospitality Management & Technology
Statistics
Application Procedure: Your Step-by-Step Guide
Select PTHND, PRE-HND, PTND, or Poly Diploma.
Create an account using a valid email address.
Log in, pay the N15,000 application fee through Remita, and complete the application form.
Print out the completed application form and any other necessary documents.
Further guidelines are available on the Federal Polytechnic Idah's official website.
Closing Date Will be Announced: Stay Tuned.
I hope you find this article helpful.
For enquiries, you may contact the numbers provided: 08030623380, 08055757345, 07089681169.