The Fully Funded Eiffel Scholarships in France is accepting applications from internationals. France is one of the most developed European countries. Eiffel Scholarships program 2024-2025 can help you obtain a master's or Ph.D. degree from a French university, and the French Ministry offers this scholarship package for Europe and Foreign Affairs with the main objective of offering these scholarships to attract extraordinarily intelligent and diligent students from different parts of the world.
Fully Funded Eiffel Scholarships In France 2024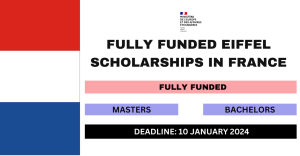 DEADLINE
10 January 2024
STUDY IN
France
PROVIDER
French Ministry For Europe And Foreign Affairs
STUDY LEVEL
Masters, PhD, Postgraduate
SUBJECTS
Subjects offered by the university
FUNDING TYPE
Government Scholarships, Fully Funded Scholarships
Scholarship Eligibility
The eligibility criteria for the Fully Funded Eiffel Scholarships in France are stated below:
1. Nationality Requirements: Eiffel Scholarships are offered to only those students who are non-French by nationality, and even students with dual nationality are not eligible for these scholarships if one of their dual nationalities is in French.
2. Age Limit Requirements: The maximum age limit for securing admission to Masters is 30 years, which means students born after March 1990 are eligible for admission to Masters degree, and for Ph.D. programs, students up to 35 years of age are eligible to apply. Thus, all those students born after March 1985 are eligible for admission to Ph.D. programs, and those students who do not meet these criteria are not eligible for admission under this scholarship program.
3. Language Requirements: French Universities offer admissions in English and French language-taught programs, and applicants of the Eiffel Scholarships 2024 would need to check the English/French language requirements of the university to where they apply for admission. Generally, IELTS, PTE, Duolingo, TOEFL, CAE, and similar English language tests are accepted by French Universities.
Scholarship Benefits
The benefits of the Fully Funded Eiffel Scholarships in France are:
1. International students pursuing their Master's degree can get a stipend of €2,362 for 12-36 months sponsored by the Eiffel scholarship by campus France whereas this includes a monthly allowance of €1,181, a maintenance allowance of €1,031, and an extra stipend of €150.
2. Similarly, students admitted to the Ph.D. program can get a €1,140 monthly allowance for 12 months. The Eiffel scholarship program also covers various expenses, including return air tickets, local and national transport, health insurance, and funds to enjoy cultural activities.
I hope you find this article helpful.