The Fully Funded Marshall Scholarships in the UK finance young Americans of high ability to study for a graduate degree in the United Kingdom. Up to 50 young Americans are selected each year to study a graduate degree at a UK university, in any field of study. The Marshall Scholarship Programme aims to:
1. Enable intellectually distinguished young Americans, their country's future leaders, to study in the UK.
2. Help Scholars gain an understanding and appreciation of contemporary Britain.
3.  Contribute to the advancement of knowledge in science, technology, the humanities, social sciences, and the creative arts at Britain's centers of academic excellence.
4. Motivate Scholars to act as ambassadors from the USA to the UK and vice versa throughout their lives thus strengthening British-American understanding.
5. Promote the personal and academic fulfillment of each Scholar.
Fully Funded Marshall Scholarships In UK 2024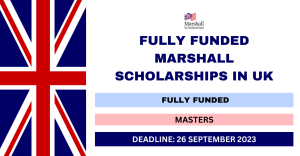 DEADLINE
26 September 2023
PROVIDER
Marshall Scholarships
STUDY LEVEL
Masters, Postgraduate
SUBJECTS
Subjects offered by the university
FUNDING TYPE
Fully Funded Scholarships
Scholarship Eligibility
The Fully Funded Marshall Scholarships in the UK are open only to United States citizens who (at the time they take up their Scholarship) hold a first degree from an accredited four-year college or university in the United States with a minimum GPA of 3.7. To qualify for awards tenable from October 2024, candidates must have graduated from their undergraduate college or university after April 2021.
Persons already studying for or holding a British degree or degree-equivalent qualification are not eligible to apply for a Marshall Scholarship.
READ ALSO: MICHIGAN UNIVERSITY SCHOLARSHIPS USA
Scholarship Benefits
The Fully Funded Marshall Scholarships in the UK covers university fees, cost of living expenses, annual book grant, thesis grant, research, and daily travel grants, fares to and from the United States, and, where applicable, a contribution towards the support of a dependent spouse.
1. The Two-year Marshall Scholarship is tenable for 2 academic years (i.e. 22 months), but may be extended by the Commission, though not beyond the end of a third academic year. Third-year extensions are granted by the Commission on a limited basis, for strong academic reasons, subject to the availability of funds.
2. The One Year Marshall Scholarship is tenable for 1 academic year (i.e. 12 months) and cannot be extended.
I hope you find this article helpful.