The Fully Funded MasterCard Foundation Scholarship and Internship in Canada is offering Undergraduate scholarships to sub-Saharan African Students for the 2024/2025 academic session.
Suppose you are a student from Sub-Saharan Africa who has demonstrated your academic talent and is personally committed to giving back to your country yet faces significant economic barriers. In that case, you are invited to apply to The MasterCard Foundation Scholars Programme.
The University of Toronto MasterCard Foundation is pleased to offer The MasterCard Foundation Scholars Programme to develop Africa's next generation of leaders at the University of Toronto. It opens up boundless opportunities for young Africans from economically disadvantaged communities with academic talent, potential to lead, and motivation to make a difference. As U of T graduates and global citizens, they will return to Africa with the tools to change lives within their communities and across borders.
The University of Toronto (U of T) is collaborating with eight leading African universities to support their efforts to train and prepare young professionals for the meaningful work of growing African health sectors, emphasizing employment opportunities for women.
Fully Funded MasterCard Foundation Scholarship And Internship In Canada 2024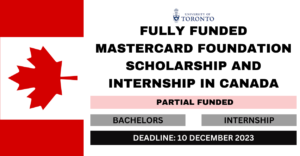 DEADLINE
10 December 2024
STUDY IN
Canada
PROVIDER
Mastercard Foundation
STUDY LEVEL
Bachelor, Undergraduate, Internship, Training
SUBJECTS
Subjects offered by the university
FUNDING TYPE
Fully Funded Scholarships
Scholarship Eligibility
The eligibility criteria for the Fully Funded MasterCard Foundation Scholarship and Internship in Canada are stated below:
1. Be a resident and a graduating high school student of a country within Sub-Saharan Africa;
2. Demonstrate financial need correspondent to that of the lowest two quintiles of your country;
3. Have very strong academic results within your school system;
4. Have a record of leadership and extracurricular involvement;
5. Maintain a strong desire to return to Africa to assist and work towards enhanced regional socioeconomic development;
6. Be graduating from a recognized secondary school or have completed the necessary academic requirements; and
7. Fulfill the necessary English requirements (dependent on country);
Scholarship Benefits
The benefits of the Fully Funded MasterCard Foundation Scholarship and Internship in Canada are:
1. If selected, you will receive a scholarship equivalent to the costs of attaining a Bachelor's degree, including travel, tuition, textbooks, housing, food, and living expenses. You will also receive financial, academic, social, and post-graduation support, enabling you to build experiences and competencies critical for academic success.
2. Internships: The program includes two unpaid internships. The first will take place in Toronto for three months during your second summer to provide local practical work experience and skills. The second internship will take place in Africa during your third summer.
3. Funding will be available to help you with the cost of a passport. The program will aid in passport applications and related costs if you do not own a passport.
Others
How to Apply?
You must submit an online application to apply for the scholarship and admission. We are pleased to announce the start of the 2024-2025 Mastercard Foundation graduate scholarship recruitment at the University of Toronto. To learn more about the scholarship and eligibility, please register to attend one of our information sessions
A completed application includes the following components:
1. A completed online application – all applicable sections must be filled out, including contact information, financial information, personal details, and responses to essay questions.
2. Financial documents – upload a scanned copy of financial documentation.
3. Transcript – upload a scanned copy of your secondary school transcript and any other academic information.
4. Two references – provide the names and contact details of two individuals who will serve as your referees. We will contact your referees directly and ask them to submit their letters of reference through a secure website.
I hope you find this article helpful.