The Fully Funded Santander Scholarships in the UK are open to international students worldwide. The Santander Scholarship is a globally recognized financial aid program sponsored by Santander Bank, one of the largest banks in the world. This scholarship is part of the bank's social responsibility initiatives managed by its Santander Universities division, which was created to support higher education. Santander University has been collaborating with higher education institutions around the world for over 20 years, and it has become a key player in the global education sector.
The primary aim of the Santander Scholarship is to promote academic excellence by providing financial support to talented students who may not have the means to pursue higher education. By doing so, Santander Bank aims to contribute to the development of society by investing in the education of future leaders and professionals. The scholarship is also a way for Santander to strengthen its relationships with academic institutions and reinforce its commitment to education and social development.
Santander Scholarships are available to students from various countries where Santander Bank operates. The bank has partnerships with hundreds of universities worldwide, and it offers a wide range of scholarships to undergraduate, postgraduate, and doctoral students, as well as university staff and researchers. The scholarships are available for various fields of study, including but not limited to business, engineering, sciences, arts, and humanities.
Fully Funded Santander Scholarships In UK 2024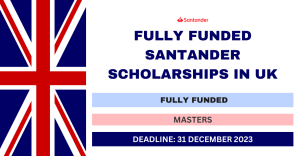 -Scholarship Eligibility
The eligibility criteria for the Fully Funded Santander Scholarships in the UK are stated below:
1. University Partnership: Your university must be one of the institutions partnered with Santander. Santander Bank collaborates with many universities worldwide, so check with your university's financial aid office or on the Santander Universities website to see if your institution is included.
2. Academic Excellence: Many Santander Scholarships are awarded based on academic excellence. You typically need to have a strong academic record to be considered for the scholarship.
3. Financial Need: Some scholarships are need-based, meaning they are awarded based on the financial needs of the applicant. You may need to provide documents showing your financial situation.
4. Program of Study: Depending on the scholarship, there may be restrictions on the program of study. Some scholarships are for specific fields of study, such as business, engineering, or the sciences.
DEADLINE
31 December 2023
STUDY LEVEL
Masters, Postgraduate
FUNDING TYPE
Fully Funded Scholarships
Scholarship Benefits
The benefits of the Fully Funded Santander Scholarships in the UK vary depending on the type of scholarship and the country in which it is awarded. Generally, the scholarship provides financial support to cover tuition fees, living expenses, travel costs, or research expenses. Additionally, being a Santander Scholar may provide opportunities to network with other talented students, university staff, and professionals, enhance your resume, and access personal development opportunities such as online courses, workshops, and internships.
RECOMMENDED-:SINGAPORE INTERNATIONAL GRADUATE AWARD (SINGA)
Overall, the Santander Scholarship is a prestigious and comprehensive financial aid program that aims to support talented students and researchers from around the world, thereby contributing to the development of society and the global community.
Others
Types of Scholarships:
Santander Bank offers different types of scholarships, including:
1. Merit-Based Scholarships: These are awarded to students with outstanding academic achievements.
2. Need-Based Scholarships: These are awarded to students who demonstrate financial need.
3. Mobility Scholarships: These are awarded to students who wish to study abroad or participate in international exchange programs.
4. Research Scholarships: These are awarded to researchers and university staff who are working on innovative projects.
Each type of scholarship may have different eligibility criteria, application processes, and benefits. Therefore, it is essential to carefully read the terms and conditions of each scholarship and to choose the one that best suits your needs and qualifications.
I hope you find this article helpful.