The Fully Funded Telenor Internship in Pakistan is open now. Undergraduate students and Graduate students are eligible to apply for the Telenor internship. Telenor internship is basically for the hiring of future Employees. Students from all over the world are eligible to apply, there is no restriction on applying. Telenor Pakistan's virtual summer internship program offers 6 weeks.
Telenor Internship program is looking for diverse, culturally aware, and problem-solving students, who wish to work in a challenging environment. During the internship, students can get the chance to work with professionals as well as hands-on experience in the industry.
It's a great opportunity for the student to start their professional career with the study. We encourage you to apply for this golden opportunity to get an internship at Telenor Pakistan.
Fully Funded Telenor Internship In Pakistan 2024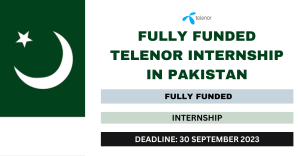 DEADLINE
30 September 2023
STUDY LEVEL
Internship, Training
SUBJECTS
Subjects offered by the university
FUNDING TYPE
Fully Funded Scholarships
Scholarship Eligibility
The eligibility criteria for the Fully Funded Telenor Internship in Pakistan are stated below:
1. Undergraduate and Postgraduates students
2. A bachelor's student, should have completed at least 6 semesters of education, or
3. A Master's student, should have completed at least 2 semesters of education, or
4. A fresh graduate of a 4-year Bachelors program, or
5. A fresh graduate of a 2-year Master's program
Other Requirements:
1. Minimum of 18 years of age
2. Should have academic learning within the relevant field
3. You should have decision-making  and strong analytical skills
4. Proficient communication and interpersonal skills
5. You are eager to learn new and forward-looking skills
Scholarship Benefits
The benefits of the Fully Funded Telenor Internship in Pakistan are:
1. A monthly stipend
2. Mobile credit allowance
3. A Laptop during the internship
Others
Below mentioned subjects will be in the following areas:
Software Engineering,Business Segments,Business Planning & Analysis,Business Support System,Audit,Accounting & Finance, Budget & Process,Branding,B2B & Postpaid Business Development,Business Intelligence,Corporate Affairs,Contact Center,Commercial,Civil Works,Corporate Communications & Responsibility,Corporate Security,Customer Management,Customer Care,Customer & Service Excellence,Customer & Channel Care,Corporate Solutions – Financial Services,Customer Value Management & Analytics,Customer Relations,Financial Control,Data Warehouse,Financial Operations,Global IT Services,Global Customer Services,Financial Services (Easypaisa),Financial Services (Branchless Banking),Health,Safety & Environment,HR Business Partnering,HR Center of Expertise,HR Shared Services,Human Resources,Information Security,Information Technology,Infrastructure Deployment – Network,Internal Audit,Infrastructure Deployment – RE,Internet & Device Marketing,IT Solutions,Legal Affairs,Long Distance International,Mobile Accounts,Marketing Segments,Marketing,Network Engineering,Network Operations,Performance & Projects Management Office,Performance Analysis Unit,Pricing Business Planning & Reporting,Network Services,Procurement & Logistics,Product Development,Products & Services,Project Management,Public & Government Affairs,Quality & Service Assurance,Real State & Site Acquisition,Radio Frequency,Regulatory & Interconnect,Risk & Assurance Management,Revenue & Risk Assurance,Sales & Distribution,Segments & Pricing,Services Development-FS,Services Development,Software Development,Technology,Systems & Risk,Sourcing & Supply Chain,Strategy & Planning,Strategy,Technology Strategy Unit,Technology Operations – Network,Technology Operations – IT,Technology Architecture & Performance,Value Added Services
I hope you find this article helpful.