The Fully Funded USEFP Scholarship in the USA is open for Pakistan citizens to pursue bachelor's degrees. In 2010, the United States Department of State's Bureau of Educational and Cultural Affairs (ECA) introduced the Global Undergraduate Exchange Program – Pakistan (Global UGRAD-Pakistan). This initiative is managed by the United States Educational Foundation in Pakistan (USEFP) in Pakistan and by the International Research & Exchanges Board (IREX) in the United States.
In a relatively short period, the program has become highly popular among Pakistani university students. The inaugural batch of 100 fellows from the 2010-11 Global UGRAD-Pakistan program returned to Pakistan to continue their undergraduate studies at local universities.
Fully Funded USEFP Scholarship In USA 2024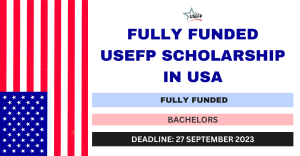 -Scholarship Eligibility
The eligibility criteria for the Fully Funded USEFP Scholarship in the USA are stated below:
1. Pakistani citizens
2. 25 years or younger
3. Currently enrolled in a college or university and committed to returning to their home universities following the completion of the program.
4. In their 14th or 15th year of formal education
5. Applicants are required to submit current/most recent, and old transcripts with application
Scholarship Benefits
The Fully Funded USEFP Scholarship in the USA will grant funds for tuition, textbooks, airfare, a living stipend, accommodation, and health insurance.
READ ALSO: FULLY FUNDED UNIVERSITY OF HAWAII SCHOLARSHIP IN USA
Others
Ineligibility
1. Dual U.S./Pakistani nationals or U.S. permanent residents
2. Employees of the Fulbright organization, the U.S. Department of State, or USAID and their spouses, children, fiancés, siblings, dependents, and parents
3. Students in their first or final year of university
The Global UGRAD-Pakistan program is advertised every year (please check for availability) by September/October. The application form is required to be submitted online. All supporting documents, such as photocopies of transcripts including an explanation of the grading scale of the university issuing the degree, are to be attached to the online application before submission. Scan copies of all your university-attested transcripts must be uploaded online including the most recent transcript.
NOTE: Only selected students will be required to provide Reference Letters and No Objection Certificate (NOC) from their current academic institution.
I hope you find this article helpful.