Are you part of a health tech startup aiming to revolutionize healthcare in Africa? The HealthTech Hub Africa (HTHA) Accelerator Program 2024 is now accepting applications. This unique program is dedicated to nurturing health tech startups and scale-ups committed to tackling pressing healthcare challenges across Africa, through collaborations with governments and the public sector.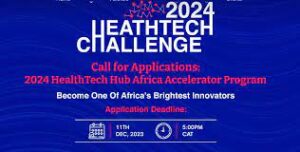 🌍 

Location

Africa-Wide
🚀 

For Startups

Mentorship, Networking, Pitch Practice
📈 

For Scale-Ups

Legal, Marketing, Fundraising Support
🌟 

Thematic Areas

Cardiovascular, Cancer, Virtual Care, Data
💡 

Benefits

Investor Access, Workspaces, Alumni Network
🤝 

Public-Private Network

Expert Support, Software Credits, Consultancy
📋 

Eligibility

Registered in Africa, Thematically Aligned
📅 

Deadline

December 11, 2023
About HealthTech Hub Africa
HTHA creates a nurturing ecosystem for startups, offering direct access to government stakeholders and ample resources to foster innovation, scalability, and impactful health technology development in Africa.
Program Focus
Thematic Areas
The program concentrates on four critical health domains:
Cardiovascular Health

: Aiming to reduce cardiovascular disease deaths through improved screening, referral, diagnosis, and management.

Breast Cancer

: Focusing on reducing breast cancer mortality through enhanced healthcare practices.

Virtual Health and Care

: Improving access, quality, and digital literacy in healthcare through remote delivery services.

Data-Driven Decision-Making

: Enhancing health system capabilities and preparedness for epidemics with integrated health information.
Benefits of the Program
What You Will Gain
10-Month Comprehensive Accelerator Program

, including:

For Growth Startups: Mentorship, coaching, expert masterclasses, community support, demo opportunities, and networking events.
For Scale-Ups: All benefits for growth startups plus access to legal, accounting, marketing, talent acquisition services, and fundraising acceleration.

Membership in the HealthTech Public-Private Partners Network

: Access to advisory services, matchmaking with partners, and discounted services.

Funding Opportunities for Innovation

: Apply for grants and in-kind benefits exceeding USD 1M.

Full-Year Access to Co-Working Space

: Utilise serviced office spaces and attend community events at Norrsken East Africa House in Kigali.

Lifetime Access to Alumni Network

: Post-program, gain lifelong access to resources and future opportunities, along with a participation certificate.
Eligibility Criteria
Who Can Apply
For Growth Startups:
African Registration

: Must be registered in an African country.

Team Composition

: At least two co-founders, including one African founder.

Thematic Alignment

: Product or service aligning with one of the program's thematic areas.

Revenue and Funding Stage

: Open to pre-revenue and post-revenue, pre-SEED to SEED stage startups.

Operational Duration

: Minimum one year of operation.
For Scale-Ups:
Evidence-Based Solution

: Demonstrated positive health benefits.

Impact Monitoring

: A strong approach to monitoring the solution's impact.

Revenue and Funding Stage

: Must be post-revenue, in the pre-Series A or Series A stage.
How to Apply
Take the First Step
Don't miss this opportunity to elevate your health tech startup. Click here to apply for the HTHA Accelerator Program. For more details, visit the HTHA Accelerator website.
Application Deadline: December 11, 2023.
I hope you find this article helpful.