As the calendar turns to 2024, a significant occasion beckons for promising African leaders. The renowned Mandela Washington Fellowship for Young African Leaders has formally announced its 2024 cycle, offering young African visionaries a chance to engage in comprehensive training in the United States.
The Mandela Washington Fellowship will bring up to 700 young leaders to the United States in the summer of 2024 for a comprehensive executive-style program that is designed to build skills and empower Fellows to lead in their respective sectors and communities.
| | |
| --- | --- |
| 🌍 Fellowship Name | Mandela Washington Fellowship for Young African Leaders 2024 (Fully funded to the U.S.) |
| 🎓 Training Subjects | Business, Civic Engagement, Public Management |
| 📅 Program Duration | Summer of 2024; 6-week comprehensive executive-style program |
| 📘 Key Components | Leadership Institutes, Fellowship Summit, Professional Development Experiences, Reciprocal Exchanges |
| 🌟 Alumni Opportunities | Ongoing professional development, networking, and collaboration opportunities |
| 🎉 Benefits | Leadership Institute participation, Summit, Networking, Skills enhancement, Alumni Network |
| 📝 Eligibility | Ages 21-35 (primarily 25-35), non-U.S. citizens/residents, J-1 visa eligibility, Proficient in English |
| 📅 Deadline | 12th September 2023 |
Overview of the Fellowship
The Mandela Washington Fellowship stands as a premier platform for young African leaders. For its 2024 cycle, the fellowship promises to host up to 700 emerging leaders during the American summer. This cohort will embark on a six-week executive program in the domains of Business, Civic Engagement, or Public Management. This bespoke training, which takes place at eminent U.S. institutions, is meticulously designed to furnish the fellows with pivotal skills and to invigorate their leadership capacities.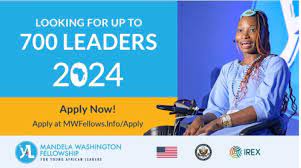 Key Components of the Fellowship
Leadership Institutes
During their stay in the U.S., fellows will partake in Leadership Institutes lasting six weeks. These institutes, focusing on Business, Civic Engagement, or Public Management, are anchored by distinguished U.S. colleges and universities. Through these programs, fellows are afforded a two-way learning experience – benefiting local American communities through sharing best practices.
Mandela Washington Fellowship Summit
Post the institutes, a summit serves as a melting pot for the fellows. Here, they foster connections with their contemporaries and network with U.S. luminaries from a range of sectors. This gathering lays the foundation for enduring collaboration between the United States and Africa.
Professional Development Experiences (PDEs)
A unique facet of this fellowship is the PDEs, where fellows can immerse themselves in real-world experiences with diverse organizations for up to six weeks. This can either be pursued post-summit during the fellowship or later as alumni.
READ ALSO: SINGAPORE INTERNATIONAL GRADUATES AWARD-(SINGA)
Reciprocal Exchanges
In a bid to promote mutual growth, U.S. citizens are provided avenues to collaborate on projects with Fellowship Alumni in sub-Saharan Africa. Such symbiotic endeavors fuel enduring ties and mutual understanding.
Alumni Opportunities and Virtual Programming
The Fellowship's commitment extends beyond the six-week program. Alumni are continually nurtured through access to professional development, networking, and collaboration. Moreover, the Fellowship harnesses virtual programming to bolster leadership development and resource accessibility.
Exclusive Benefits of the Fellowship
By joining the Mandela Washington Fellowship, participants stand to:
Engage in a tailored Leadership Institute at a prestigious U.S. institution.
Navigate beyond their immediate work domains to diversify their expertise.
Connect with leading African youth at a dedicated summit.
Network with key figures from the U.S. Government, civil society, and the business world.
Elevate their professional journey with newfound skills and perspectives.
Integrate into a vast alumni network, fostering innovative problem-solving.
Who Can Apply?
The Mandela Washington Fellowship upholds an inclusive ethos, devoid of discrimination. It is tailored for young African leaders who:
Are between 25-35 years of age by the application deadline (though outstanding candidates aged 21-24 may also be considered).
Hold non-U.S. citizenship and aren't U.S. permanent residents.
Qualify for a U.S. J-1 visa.
Aren't affiliated (including immediate family) with U.S. Government entities.
Are proficient in English.
Are citizens and residents of specified African countries.
Haven't previously been Mandela Washington Fellowship alumni.
Selection Criteria
Candidates will be evaluated based on:
Demonstrable leadership and achievements in various sectors.
Commitment to community service, volunteerism, or mentorship.
Ability to collaboratively work in diverse groups.
Effective communication and social skills.
A proactive and adaptable mindset.
In-depth knowledge and experience in their chosen sector.
Intent to apply Fellowship learnings to benefit their communities in Africa.
How to Apply
Interested candidates can apply here.
For further details, please visit the official Mandela Washington Fellowship website.
Application Deadline: 12th September 2023.
This fellowship stands as a beacon for young African leaders. As Mandela once said, "It always seems impossible until it's done." This could be the stepping stone to realizing your leadership dreams.
I hope you find this article helpful.