Commence your educational journey in the United States. Exciting news! The Horatio Alger National Scholarship is currently available. In this article, we will provide detailed information about this scholarship, its advantages, and the step-by-step application procedure.
The Horatio Alger Scholarship 2024-2025 is a partially funded undergraduate scholarship for American students, offering a generous $25,000. This scholarship is granted to 106 prospective college students in the United States.
As one of the most extensive college financial aid programs in the nation, the Horatio Alger National Scholarship Program is a prominent initiative that specifically supports high school students who have encountered and surmounted significant challenges during their early years. These scholarships are generously funded by Horatio Alger Members who, akin to the Scholars, have faced their own obstacles but ultimately triumphed to become successful business and community leaders.
The National Scholarship is bestowed upon eligible students across all fifty states, the District of Columbia, and Puerto Rico. National Scholars are provided an all-expenses-paid journey to Washington, D.C., in the spring of their senior year, where they participate in the National Scholars Conference. Attending this conference is a prerequisite for receiving the award.
The application for the Horatio Alger Scholarship commences on August 1 and concludes on October 25. It's a common application, which means that by applying once, you will be considered for a variety of scholarship programs offered by the Association. To be eligible, you must ensure that your application and all the required materials are uploaded to your online application by 5:00 p.m. Eastern Time on October 25.
Horatio Alger National Scholarships In USA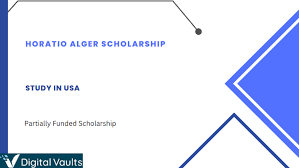 RECOMMENDED: MICHIGAN UNIVERSITY SCHOLARSHIPS USA
Degree Level:
Horatio Alger National Scholarships 2024, USA. is available to undertake Undergraduate level programs at USA Universities.
Available Subjects:
Following subject are available to study under this scholarship program.
All Subjects
Scholarship Benefits:
The Horatio Alger Scholarship offers 106 students a $25,000 grant for their full four-year undergraduate education at any college in the United States.
Eligible Nationalities:
This scholarship is open to USA students.
Eligibility Criteria:
To qualify for the Horatio Alger National Scholarship, applicants must satisfy the following conditions:
1. Must be a full-time high school junior in the United States.
2. Must show a strong dedication to pursuing and successfully completing a bachelor's degree at an accredited nonprofit public or private institution in the United States (students can initiate their studies at a two-year institution and then transfer to a four-year institution).
3. Must demonstrate significant financial need (requiring an adjusted gross family income of $55,000 or less).
4. Must actively participate in co-curricular and community service activities.
5. Must exhibit honesty and resilience in overcoming challenges.
6. Must maintain a minimum grade point average (GPA) of 2.0.
7. Must be a United States citizen.
Application Procedure:
To apply for the Horatio Alger Scholarship, please adhere to these instructions: Submit your application through the official website.