Obtaining a provisional driving license marks an exciting step toward gaining the freedom of the road. Whether you're a young adult eager to explore new horizons or someone who has decided it's time to conquer the driving skill, understanding how long a provisional driving licence lasts is essential.
How Long Does a Provisional Driving Licence Last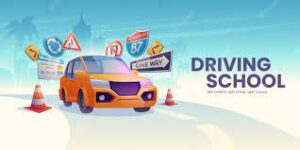 What is a Provisional Driving Licence?
A provisional driving licence is a temporary permit for becoming a licensed driver. It grants individuals who are learning to drive the opportunity to practice their driving skills on public roads under specific conditions.
Typically issued to young adults and novice drivers, the provisional driving license empowers them to gather valuable experience and confidence before facing the official driving test.
Displaying "L" plates on the vehicle is another typical requirement to indicate that the driver is still in the learning phase. Also, adhering to specific rules and regulations outlined by the local driving authority is paramount.
Who Can Apply For a Provisional Driving Licence?
A provisional driving licence is typically available to individuals who meet specific criteria set by the local driving authority. Generally, the eligibility requirements for applying for a provisional driving license are as follows:
Age Requirement: Most countries have a minimum age requirement for applying for a provisional driving licence. This age often varies, but it is usually around 16 to 18 years, depending on the jurisdiction.
Residency and Identity: You must provide proof of your identity, such as a valid passport or national identification card, and proof of residence in the country.
Medical Fitness: Some jurisdictions may require that you meet specific medical fitness standards to ensure that you are physically capable of operating a vehicle safely.
Legal Status: You must have legal status to reside in the country where you are applying for the provisional license.
Parental or Guardian Consent: If you are under the legal adult age, parental or guardian consent may be necessary to apply for a provisional driving license.
Written Test: In some regions, individuals may need to pass a written test on road rules and regulations before being granted a provisional driving license.
How Long Does a Provisional Driving Licence Last?
How long a provisional driving licence lasts before it expires varies depending on the country or jurisdiction. In the United Kingdom, for example, a provisional driving licence typically lasts for up to 10 years.
During this period, the licence holder can learn to drive under certain conditions. However, it's essential to check with your local driving authority to confirm how long a provisional driving license in your area lasts. This is because these timeframes can differ from one region to another.
READ ALSO: HOW LONG DO GRADUATION CEREMONIES LAST?
Do You Need Insurance With a Provisional Driving Licence?
In most cases, individuals with a provisional driving licence must have car insurance before they start practising driving on public roads. Even as a learner driver, having insurance is crucial to ensure you're covered in case of accidents or damages.
Insurance requirements may vary depending on the jurisdiction, but it's generally advisable to have a suitable insurance policy that covers both the learner and the supervising drivers. So, always check with your local regulations and insurance providers to understand the specific requirements and options available for learner drivers.
How Do You Know If Your Provisional Driving Licence Has Expired?
To determine if your driving licence has expired, you can check the expiry date printed on the licence card. This date is usually prominently displayed and indicates when your licence will no longer be valid.
Thus, it's essential to keep track of this date to avoid any legal issues that might arise from driving with an expired licence. If you're unsure about the expiry date or if it's not easily accessible, you can contact your local driving authority or Department of Motor Vehicles to inquire about your license status.
They should be able to provide you with the expiration date and any necessary information related to your licence renewal. In some cases, jurisdictions send out renewal reminders via mail or email as the expiry date approaches.
These reminders often contain instructions on renewing your provisional driving licence, including the steps to follow and the documents you must provide. Hence, it's crucial to update your contact information with the relevant authorities to ensure you receive these reminders.
Renewing a Provisional Driving Licence
Renewing your provisional driving licence is a straightforward process that ensures your legal ability to continue practising driving. Here's a general guide on renewing your licence:
Check Expiry Date: Keep a close eye on your provisional licence's expiry date. Renewal procedures typically need to be initiated before the licence expires.
Visit Official Website: Go to the official website of your local driving authority or Department of Motor Vehicles. This is where you can find comprehensive information about the licence renewal process.
Complete Renewal Application: Accurately fill out the renewal application form. This form might be available online for digital submission or in person at a local office.
Provide Required Documents: Check if any updated documents are required for renewal. This could include a recent photograph, proof of address, or other relevant identification.
Pay Renewal Fee: The renewal fee, as specified by your local authority, covers administrative costs and the production of your renewed licence. Make sure to pay this fee promptly.
Submit Application: Submit your completed renewal application form, along with any required documents and payment, through the designated channels. Your renewal application will be processed accordingly.
Receive Your Renewed Licence: Depending on your jurisdiction, you might receive a digital renewal or a physical licence. Once approved, you'll receive your renewed provisional driving licence, allowing you to continue practising your driving skills within the legal boundaries.
Note that driving with an expired provisional licence could have legal consequences, including fines or penalties. To avoid such situations, it's essential to be proactive about renewing your licence and adhering to the renewal guidelines provided by your local driving authority.
I hope you find this article helpful.