Log truck drivers serve an important role in supporting society's infrastructure by transporting supplies. Because of their important role in taking lumber products from place to place, log truck drivers prepare for their careers by learning about industry practices. You can discover if log truck driving is the right career path for you by researching how to become a log truck driver and what you can expect on the job.
In this article, we describe the job description of a log truck driver and explain how to get the necessary qualifications to start working as one.
What is a log truck driver?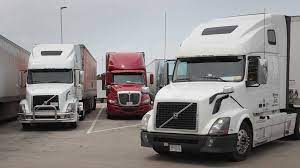 A log truck driver is someone who uses semi trucks, 18-wheelers and other large vehicles to transport unprocessed wood, logs and other lumber products. Log truck drivers typically drive their freight over long distances and may spend multiple weeks driving cargo for a single assignment. They're responsible for securing a shipment of logs, navigating a route and delivering them safely to the intended destination. Log truck drivers are an integral part of the logging and forestry industry, and lumber producers rely on them to move large logs and tree trunks for processing and distribution.
Log truck drivers often work for lumber producers, mills and logging companies. They can also work as independent owner-operators of their own trucks and contract their services to different businesses. Some log truck drivers also transport other types of materials, but most specialize in logging because it requires specialized knowledge and equipment.
What do log truck drivers do?
Log truck drivers have a set of duties they need to complete to successfully schedule orders and deliver them according to schedule. Their primary responsibilities include:
Loading and securing lumber in the cargo hold

Inspecting trucks and trailers

Planning routes and coordinating delivery logistics

Tracking weather conditions
Work environment for log truck drivers
Log truck drivers spend most of their time on the road and typically have long shifts to meet shipping deadlines. Industry regulations require drivers to stop and rest for a certain amount of time to ensure they can be alert on the road. Log truck drivers often work in forested areas like the Pacific Northwest, meaning they may drive through mountains, snow and other environmental conditions. Log trucks are notoriously challenging to drive and lumber cargo can be extremely heavy, so log truck drivers should understand the risks of the profession.
Essential skills for log truck drivers
Log truck drivers use a diverse set of skills to operate their trucks and manage shipments for their clients. Some of the main skills you should develop if you want to be a log truck driver are:
Concentration: Log truck drivers need to focus on the road for long periods of time, so they should have excellent concentration. Concentration allows log truck drivers to be attentive and notice hazards while ignoring distractions.

Decision-making: While on the road, log truck drivers need to be able to make quick decisions to keep their truck stable and secure.

Stamina: Log truck drivers use physical strength and stamina to steer their trucks and help load heavy logs into their trailers.
How to become a log truck driver
If you're interested in becoming a log truck driver, follow these steps to become qualified and find a job:
1. Complete high school or earn a GED
Not all trucking jobs require candidates to have a formal education, but having a high school diploma or a GED can help you find preferred positions in the trucking industry.
2. Consider a driver training course
Taking driver training courses is a popular method for gaining commercial truck driving skills. Driver training courses aren't required, but they can give you a structured way to learn truck driving fundamentals and gain experience before applying for your commercial driver's license (CDL).
3. Turn in your CDL application
The main qualification to become a log truck driver is having a valid Class A CDL, which allows you to drive the heavy trucks and trailers necessary to haul logs. To apply for your CDL, turn in an application to your local Department of Motor Vehicles. The basic application materials include:
Application fee

Identification

Proof of residency

Medical examination report

Vision test
4. Pass the CDL knowledge tests
Getting your Class A CDL involves taking a general knowledge test and a combination vehicles test. Topics include how to control a vehicle, inspection techniques, road safety, observation practices, hazard identification and communicating with other drivers. Once you pass all necessary CDL written tests, you'll have a Commercial Learner's Permit (CLP) that you can use to practice for your road skills test.
5. Prove your driving skills with a Class A vehicle
Use your CLP to practice operating a heavy truck, then sign up for a Class A driving test once you feel confident. You need to have your CLP for at least two weeks before you can apply but can take longer if you want extra practice. Drivers must bring their own vehicles to the test, and you can rent a truck specifically to take your test.
Before the test, you'll complete a vehicle inspection where the test administrator checks for registration, liability insurance and vehicle function. During the driving test, an experienced permit specialist will observe as you complete a variety of trucking maneuvers, including:
Parking

Shifting

Changing lanes and merging

Turning

Crossing intersections
6. Earn additional CDL endorsements
Log truck drivers typically need additional permissions, known as endorsements, that qualify them to operate special types of trucks. Endorsement requirements vary based on employer, but common endorsements for log truck drivers include:
H endorsement: required to transport hazardous materials

T endorsement: required to tow double and triple trailers
To get an endorsement, you need to pass supplementary knowledge tests and may need to take an additional road test depending on the type of endorsement.
7. Gain OTR truck driving experience
Before you start driving log trucks, gain experience with other types of over-the-road (OTR) truck driving. OTR truckers, also known as a long-haul driver, specialize in driving long distances instead of transporting cargo in a localized area. Log trucks are some of the most difficult types of heavy trucks to drive, so it's a good idea to get comfortable with handling other types of long-distance cargo before getting a job in lumber transportation.
As a log truck driver, you'll often drive through rough terrain in challenging conditions. Practice driving on winding roads and handling large trucks in various weather conditions to build your confidence on the road before working with log cargo loads. Logs can shift during transit, making it especially difficult to safely control the vehicle. Spending time driving other types of trucks can help you become comfortable with the motions of controlling a truck and prepare you to handle potential hazards.
8. Apply for log truck jobs
Once you have experience as a long-haul trucker, apply to logging companies and trucking businesses where you can specialize in driving log trucks. Many employers will provide on-the-job training where you can learn how to apply your trucking experience to the lumber industry.
I hope you fidn this article helpful.