The renowned Ignatius Ajuru University Of Education (IAUE) in Port Harcourt has officially released the admission list for the upcoming 2023/2024 academic session. This essential guide aims to provide prospective students with detailed insights and instructions regarding the admission process and the subsequent steps to be followed by the admitted candidates.
IAUE Admission List 2023/2024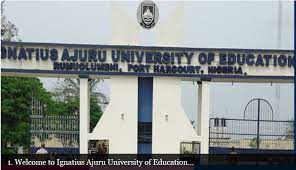 | | |
| --- | --- |
| 🏫 University | Ignatius Ajuru University Of Education (IAUE) |
| 🗒️ Admission | 2023/2024 Academic Session |
| 📢 Announcement | Admission List Released |
| 🖱️ Action | Login to JAMB CAPS and accept admission |
| 🆔 Requirement | JAMB Registration Number |
| 🌐 Portal | IAUE Admission Status Checking Portal |
| 🎉 Congrats | To all admitted candidates! |
| 📘 Next Steps | Print JAMB admission letter; Pay Acceptance Fees |
Admission Announcement: Ignatius Ajuru University Of Education
The authorities of IAUE have uploaded the admission list online, containing the names of candidates who have been offered provisional admission into various university degree programs for the 2023/2024 academic session. Candidates who have partaken in the IAUE post-UTME screening exercise can now verify their admission status online.
How to Verify IAUE Admission Status
Candidates provisionally admitted into the First Degree Programmes of IAUE for the 2023/2024 Academic Session can check their status on the school's official website.
Instructions for Candidates Admitted to IAUE Programmes
Required Action:
Admission Acceptance: Admitted candidates should log in to their JAMB Central Admission Processing System (CAPS) to accept their admission.
Document Printing: Post acceptance, candidates are required to print their JAMB admission letter and JAMB result slip (colored only) for clearance and registration in the university.
Acceptance Fees Payment: The payment gateway will be activated on Tuesday, 19th September, 2023.
Important Dates:
Registration Deadline: Candidates listed in the Merit List (Batch A) must complete their registration by Friday, 20th October, 2023.
Continuous Updates: The list will be regularly updated as the Joint Admissions and Matriculations Board (JAMB) approves more recommended candidates.
Congratulations to all candidates who secured admission into IAUE for the 2023/2024 Academic Session!
Important Information for Candidates Not Yet Admitted
Candidates aspiring to join Ignatius Ajuru University of Education in the 2023/2024 academic session should note that JAMB CAPS has been activated for the admission exercise. This activation allows candidates to monitor their admission status meticulously and take necessary actions promptly once offered admission.
Steps to Monitor Admission Through JAMB CAPS:
Verify O'Level Upload:

Log in to the JAMB profile
Click on 'Check Admission Status
Access 'My CAPS' and click on 'My O'level result'
If your O'level is not uploaded, visit any accredited JAMB CBT center or IAUE ICT center to upload your O'level result.

Know When You Have Been Offered Admission:

Follow the instructions above to monitor your admission status and know when you are recommended for admission or when the admission is approved by JAMB.

Approval of Transfer of Programme:

Candidates may be considered for transfer from their chosen program due to UTME and O'level combinations. Monitor the 'Transfer Approval' link to see recommendations and either accept or reject them as per your preference.

Instructions for Candidates with Awaiting Results:

All UTME candidates and direct-entry candidates, including JUPEB students, must upload their results to avoid disqualification.

Checking Admission Status on JAMB CAPS:

Follow this Guide to check if you have been recommended or offered admission.
Note for Mobile Users
Mobile users may need to use desktop mode to view the complete page on JAMB CAPS. The Chrome browser is recommended to enable the 'request desktop site' option for proper display.
In summary, by meticulously following the aforementioned steps and adhering to the provided instructions, candidates can smoothly navigate through the admission process and secure their place at the prestigious Ignatius Ajuru University Of Education for the 2023/2024 academic session.
I hope you find this article helpful.