The Fully Funded Islamic University of Madinah Scholarship in Saudi Arabia is open to all international students. The University of Madinah offers scholarship opportunities for non-Saudi citizens who are residing outside Saudi Arabia. The scholarship will help you to pursue a fully funded bachelor's degree program in Saudi Arabia with other perks and benefits, which we will mention in this post. The scholarships are granted by the Government of the Kingdom of Saudi Arabia.
The undergraduate programs are available in various academic majors, including Engineering, Computer Science, Science, and Shariah Islamic law. The University of Madinah is a Global Saudi institute with students from more than 170 countries joining the institute. Students from more than 140 countries are enrolled in different degree programs.
Fully Funded Islamic University Of Madinah Scholarship In Saudi Arabia 2024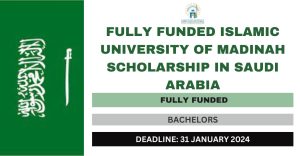 DEADLINE
31 January 2024
PROVIDER
Islamic University Of Madinah
STUDY LEVEL
Bachelor, Undergraduate
SUBJECTS
Subjects offered by the university
FUNDING TYPE
Government Scholarships, Fully Funded Scholarships
Scholarship Eligibility
The eligibility criteria for the Fully Funded Islamic University of Madinah Scholarship in Saudi Arabia are stated below:
1. Applicant must have completed a Secondary high school degree from an institute outside Saudi Arabia.
2. Students can apply for the course before completing the secondary degree if he receive a degree certificate within one year.
3. All international students are eligible for the scholarships.
4. Saudi nationals are not eligible to apply.
5. Candidates must be at least 17 years old, not exceeding 25 years of age.
6. You must not have received any other scholarship.
7. A recommendation letter from an academic institute.
8. Must be medically fit to attend the program.
9. To apply for the Faculty of Holy Quran, you must have been mesmerized by the whole Quran.
Language Requirements
Faculty of Science
There is no requirement for the IELTS or TOEFL if the candidate has attended his previous degree in English language.
Students who have not completed their degree in English Language have to submit the score of IELTS or TOEFL.
Faculty of Arabic Track
Students who have completed their secondary education in the Arabian language will not participate in the Arabic language course; if you took the course in another language, you need to go through an Arabic Language course.
Scholarship Benefits
The benefits of the Fully Funded Islamic University of Madinah Scholarship in Saudi Arabia are:
1. A Monthly stipend during a degree program.
2. A two-month allowance for accessories.
3. 3 Month's Graduation allowance for books.
4. An Allowance for Annual textbooks.
5. Discount on Air tickets at the end of the Academic year.
6. Other Perks & Benefits.
7. Free Medical Services.
8. University Accommodation.
9. Discounted Meals.
10. Guidance & Counselling sessions.
11. Free Transportation from the university to Prophets mosque.
12. Cultural Activities.
In-Campus Facilities
1. Shopping Centers.
2. Saudi Airline Office.
3. Post Office.
4. Commercial Libraries.
5. Students Service Center.
6. Cargo Office.
Others
Admission Steps:
Completing an Online Application
Screening of Application
Examining Application
Final Admission Expectation
Completion of Visa Requirements
Obtaining Visa
Request for the Entry Ticket
The arrival of the applicants
Important
The university does not contain any offices outside Saudi Arabia to receive applications for admission.
Applications need to be submitted through the official online portal.
Applicant must fill out his own application.
The information entered in the application must be correct.
Any forgery or distortion found in the certificate will result in the cancellation of your admission.
How to Apply?
The application process for the Bachelor's admissions at the University of Madinah is online; visit the official link below to visit the admission portal. Also, check out the admission guide link for more details and information.
I hope you find this article helpful.