Life After School For Nigerian Graduates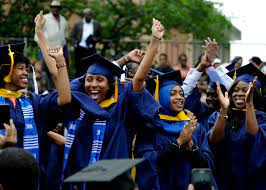 Ever wondered what it is like for most people who have gone through the common academic journey – from primary to secondary to university or other higher institutions and now they are graduates?  What is the next step?
Life after graduation in Nigeria can vary significantly depending on an individual's personal circumstances, career goals, and resources. Some common options for recent graduates include:
Finding a job
Many graduates in Nigeria look for employment opportunities in their field of study or a related field. Job search resources in Nigeria include online job boards, networking events, and professional associations.
Starting a business
A lot of Nigerian graduates choose to start their own businesses, either alone or in partnership with others. This can be a good option for those who have a clear business idea and the skills and resources needed to bring it to fruition.
Networking
Building professional connections and networking with others in your field can be crucial for finding job opportunities and advancing in your career. This can involve joining professional associations, attending industry events, or connecting with others through social media or other online platforms.
Further study
Some graduates decide to pursue further education, either by enrolling in a graduate program or taking additional coursework to gain specialized skills. This can be a good option for those who want to advance in their field or explore new career opportunities.
Volunteering or interning
Some recent graduates choose to volunteer or take on internships to gain experience and build their professional networks. This can be a good option for those who are unsure about their career path or want to test out different industries before committing to a full-time job.
Financial planning
Graduating from college can be a financial milestone, but it's important to have a plan in place for managing your finances as you enter the workforce. This might involve setting a budget, saving for the future, or finding ways to reduce debt.
Finding support
Finding support from individual family members and organizations is one of the things you should focus on immediately after you have graduated from any university or other institution in Nigeria.
Life after graduation can be a challenging transition, and it's important to have a supportive network to help you navigate it. This might involve seeking out mentors or joining a support group for recent graduates.
Staying focused
It's easy to get sidetracked or feel overwhelmed after graduation, but it's important to stay focused on your long-term goals. This might involve setting short-term goals and creating a plan to achieve them, or seeking out resources or support to help you stay on track.
Taking risks
One of the best times to take risks is immediately after you have graduated from university or college in Nigeria, because you will have the opportunity to offer a lot of service to people. Likewise, you will be able to express yourself better than electorates or undergraduates.
Invest your time in taking risks and trying new things, whether that means starting a business, traveling, or exploring new career opportunities. While it's important to be mindful of the risks involved, taking calculated risks can help you grow and learn in ways that might not be possible otherwise.
Development and Building Skills
Graduating from college is a great time to focus on building skills that will be valuable in your career. This might involve taking on additional coursework or training or finding ways to gain experience through internships or volunteering.
Staying Informed
You need to invest your time and energy to get the latest developments and opportunities in Nigeria. This is one of the best things you should do as a young graduate in Nigeria at the moment. By doing this, you will be able to get the latest information, especially about your career field, government policy, new rules, economic news, and more.
This information will shape your life and help you make the right decisions, especially about your career. This is very important for those who are looking for a job or business opportunity in Nigeria because they will be able to invest their time in the right place based on the developments and information they have access to.
Getting the latest updates and developments in your field and staying informed about job opportunities can be crucial for finding and advancing in your career. This might involve subscribing to industry publications, attending conferences or networking events, or following thought leaders in your field on social media.
Seeking out opportunities
A lot of Nigerian graduates are not living up to their expectations because they do not seek out opportunities in the country. Invest your time in seeking out opportunities; you need to stop playing games on your smartphone.
Do proper research about your career and the latest opportunities that are attached to it. If possible, have a physical meeting with experts in your industry or career; they will be able to provide all the necessary answers to your questions. This information will help you strategize and be on top of your game even when you are still looking for a job or for an investor to invest in your business idea.
Life after graduation is a time to be proactive in seeking out opportunities that align with your career goals. In most cases, you might need to apply for job openings, reach out to potential mentors or employers, or take on projects that help you build your skills and experience. If it is possible to learn new skills so that you will be able to do more, then you should do it as soon as possible.
In summary, these are the best of Life After Graduation in Nigeria. These things will assist you in developing your career and personal goals without restriction or difficulty in the process of achieving them, even during Nigeria's difficult times.
will depend on their individual goals and circumstances. It's important to carefully consider all of the available options and make a plan that aligns with your long-term career aspirations.
I hope you find this article helpful.