MRCG Doctoral Training Program Scholarship for African citizens who are passionate about advancing their academic careers in medical research. The Medical Research Council Unit The Gambia at the London School of Hygiene and Tropical Medicine (MRCG at LSHTM) beckons you to explore a monumental opportunity. This illustrious institution, representing a significant investment in medical research within a low and middle-income country, is the pinnacle of scientific expertise and research excellence in West Africa.
MRCG Doctoral Training Program Scholarship 2023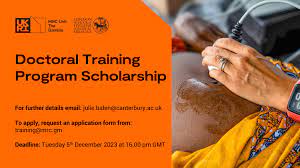 Doctoral Training Program Scholarship
The MRCG at LSHTM is thrilled to announce the commencement of applications for its coveted PhD studentship. This programme is designed to hone your expertise and fully immerse you in digital diagnostics within the sphere of reproductive health in The Gambia.
Project Insight
Under the primary supervision of Professor Julie Balen, an Honorary Senior Researcher at MRC Gambia at the LSHTM, you will dive into a project to evaluate the health system and population readiness for digital diagnostics in reproductive health. This immersive experience promises to be intellectually stimulating and career-defining.
PhD Program Structure
This full-time, four-year studentship starts when a successful candidate is recruited. You'll be at the forefront of collaborative efforts between the MRC Unit The Gambia at LSHTM and Canterbury Christ Church University, UK, backed by full financial support.
Eligibility
To be considered, you must possess:
An MPH/MSc in a relevant field such as Global Health, Public Health, or Reproductive Health.
Proven experience in qualitative and/or mixed methods research.
Demonstrable skill in working within multidisciplinary teams.
Outstanding written and oral communication abilities.
While not mandatory, it would be advantageous if you have:
Proficiency in data analysis tools (e.g., NVIVO, STATA).
A background in reproductive health technology and digital innovations.
A cooperative spirit that enhances team efforts.
RECOMMENDED: THE OXFORD-GRACE LAKE SCHOLARSHIP 2024
Application Process
The closing date for applications is 5th December 2023 at 4.00 pm GMT. Interested candidates should request further information and an Application Form via email at: training@mrc.gm
Note: For a more detailed conversation, you can reach out directly to Professor Julie Balen at julie.balen@canterbury.ac.uk.
Commitment to Equality and Data Protection
The MRC Unit The Gambia at LSHTM is not only an Equal Opportunities Employer but also maintains a stern No Smoking Policy. Rest assured, your data will be safeguarded as per the Unit's stringent data protection policies, ensuring confidentiality throughout the selection process.
I hope you find this article helpful.