MTN Nigeria – The leader in telecommunications in Nigeria, and a part of a diverse community in Africa and the Middle East, our brand is instantly recognizable. It is through our compelling brand that we are able to attract the right talents whom we carefully nurture by continuously improving our employment offerings even beyond reward and recognition.
       MTN Nigeria Chenosis Graduate Trainee Program 2023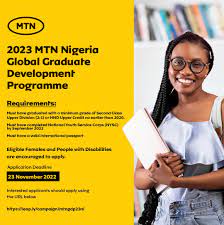 Applications are invited for:
Title: Chenosis Graduate Trainee Program 2023
Job Identification: 3293
Location: Olubunmi Okogie Road – Sangotedo, Lagos
Job Schedule: Full-time
Job Category: MTN Level 1
Job Description
Chenosis is entering a new phase in its lifecycle where operational and commercial excellence has become critical for success.
The urgency for change has become more heightened amidst increased competitive intensity across all markets in which MTN operates.
The Chenosis Graduate Programme must therefore ensure the successful delivery in the context of:
Alignment of the Programme objectives with the overall MTN strategy
Rapidly changing ICT environment
The geographic complexity of MTN's footprint across Africa and the Middle East
Management of executive and shareholder expectations across all 22 OpCos throughout the transformation
Management of customer and supplier expectations
The evolving industry sector constantly presents new challenges and opportunities to the core businesses
Participative environment – highly diverse and team-focused
Rapid advancement of systems and technology
Constant dynamics and local challenges in the economic, regulatory, and legal environments
Focus on key strategic programs that require cross-functional, cross-market collaboration and top management visibility
READ ALSO: THE MILES MORLAND FOUNDATION WRITING SCHOLARSHIP 2023
Responsibilities
The Graduate: Chenosis will be accountable for the following Key Performance Areas:
Conduct research on technology trends.
Facilitate ad hoc meetings with relevant stakeholders as deemed necessary
Type reports according to the required formats
Prepare presentations using information received
Provide status/progress reports as required
Drive improvement across the business to achieve the optimal service quality deliverables
Research of content for presentations, creation and editing of presentations, presentation layout, and quality assurance in alignment with MTN corporate communication standards
Editing of media (videos, audio) to reduce length while capturing the essence of the presentations/meetings
Assist in the collation of information for reporting dashboards on various performance metrics internally to Senior Management as well as cross-functional teams and externally to vendors; following up with the relevant parties to ensure information is provided on time
Assisting in curation of content in knowledge bases (intranet), understanding of the content, assisting staff in finding documents and knowledge, ability to answer frequently asked questions
Assist in delivering the global product portfolio and roadmap
Assist in defining Go-to-market activities focusing on innovation and revenue streams, working hand in hand with product managers across Chenosis MTN OPCO's
Assist in the management/tracking of the overall product lifecycle
Interface with OpCo presales and design in support of large or strategic opportunities
Assist in producing documentation of service: marketing manuals, annexes to contracts (Service Description, Manual of Operations, Pricing, Terms of Service, SLAs), training documentation, and business presentations
Define and update weekly governance updates for installed base & new product development across MTN Group
Research possible future requirements of customers in product roadmap using market insights and research.
Continuously identify key gaps to grow portfolio/s based on market priorities, multinational accounts, across OpCo connectivity and Enterprise Sales needs
Prioritize development activity on the network based on insights from corporate tenders across the group. as well as customer & market insights.
Assist in defining & establishing frameworks & methodologies for Chenosis products team
Possess the authority, presence, and integrity to command respect from colleagues and from external contacts
Planning and organizing as required
Foster Team and independent work within Chenosis
Foster cross-functional collaboration between IT, products, technology, Sales, and marketing
Qualifications
Education:
Minimum of 4 Year Academic Degree / B.Sc / BTech in Computer Science/Software Engineering or Programming/Electronic and Electrical Engineering.
Post-Graduate will be advantageous
Experience:
Graduate work experience or internships is a plus.
Have a good understanding of embedded software and pro.
Skills / Competencies:
Highly collaborative, inclusive, and agile atmosphere in partnership with multi-functional teams.
Ability to learn, grow, and evolve
Application Closing Date
26th August, 2023; 12:49 PM.