The Fully Funded Nanyang Technological University Scholarship in Singapore is open for international students who intend to pursue undergraduate Nanyang Technological University (NTU), Singapore. Nanyang Scholarship recognizes students who excel academically, demonstrate strong leadership potential, and possess outstanding co-curricular records.
Fully Funded Nanyang Technological University Scholarship in Singapore 2024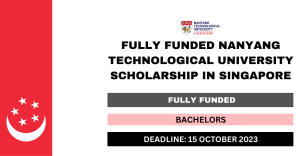 DEADLINE
15 October 2023
PROVIDER
Nanyang Technological University
STUDY LEVEL
Bachelor, Undergraduate
SUBJECTS
Subjects offered by the university
FUNDING TYPE
Fully Funded Scholarships
Scholarship Eligibility
The eligibility criteria for the Fully Funded Nanyang Technological University Scholarship in Singapore are stated below:
1. Required Language: English
2. Eligible Countries: All World Countries
3. Excellent co-curricular records.
4. Strong leadership qualities and potential.
5. You must get approval from the University.
6. Don't hold concurrently any other scholarships, bursaries, university loans, fellowships, grants, or awards.
7. Required to maintain a minimum Cumulative Grade Point Average (CGPA) of 3.5 over 5.0. Academic performance will be reviewed every semester.
8. You must get a good appraisal -The appraisal is to be completed (online )by your school teacher, who must not be your family or relative.
9. The Nanyang Scholarship covers up to the normal program duration on the condition that the scholarship holder maintains a record of good academic performance and exemplary conduct.
Scholarship Benefits
The benefits of the Fully Funded Nanyang Technological University Scholarship in Singapore are:
1. Full coverage of subsidized tuition fees.
2. Living allowance of $6,500 per academic year.
3. Accommodation allowance of up to S$2,000 per academic year (Applicable to scholarship holders who reside in NTU hostels only.)
4. Travel grant of S$5,000 for an overseas program (one-off).
5.  Computer allowance of S$1,750 (one-off).
Others
How to Apply
Applicants are required to submit their application for admission (from here) before submitting their application for a scholarship
After submitting for university admission, you will get your application Number
Apply for the scholarship with your assigned application number before the application closing date from here
Submit a recent passport-size photo (digital image) online after completing your application form.
After you have submitted your scholarship application, you will be provided with a URL to be forwarded to your school teacher. When you are passing the link to your teacher, please inform him/her of your NTU application number and Date of Birth, as he/she will need the information to submit the appraisal online.
Submit a referee's appraisal online(this step is done by your teacher within 7 days or max. 3 weeks of your sent application).
Note that we need only one appraisal that may be submitted online to support your application.
If you're shortlisted, you will be informed by E-mail and be sure to leave a great impression at the scholarship interview.
I hope you find this article helpful.