In the vibrant city of Lafia, nestled within Nasarawa State, lies an institution revered for its commitment to molding the future of healthcare – The Nasarawa State College of Nursing Sciences (NASCNS). This institution is set to welcome a new batch of passionate students aiming to delve deep into the rewarding world of midwifery.
NASCNS, Lafia Basic Midwifery Admission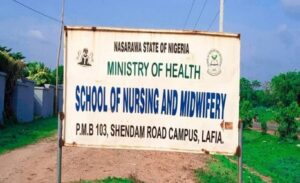 NASCNS Lafia's Invitation: Will You Answer the Call?
The College of Nursing Sciences, Lafia has now unfurled its flags, announcing the beginning of its admission cycle for the Basic Midwifery program for the 2023/2024 academic year. The sales of these coveted admission forms began on 10th October and will gracefully conclude on the 17th October 2023.
All About The Entrance Examination
Date to Remember: The institution has slated the entrance examination for 21st October 2023. Tick-Tock!: Be ready by 11 AM sharp! Time waits for no one, especially not for future leaders in midwifery.
Essential Qualifications: Do You Have What it Takes?
Every journey has its requirements. For this academic adventure, applicants need to showcase their prowess in academia. Specifically, they should possess five credits in either their SSCE/NECO or NABTED. These credits ought to be in the following subjects:
English Language
Mathematics
Chemistry
Physics
Biology
Your Roadmap to Application Success
Embarking on this journey might seem daunting, but with the right steps, it becomes a breeze. Here's a concise guide for all eager candidates:
Digital First Step: Begin by visiting the NASCNS Lafia's Official Portal.
Seek and You Shall Find: Spot and click on the "APPLY NOW" beacon.
Knowledge is Power: Familiarize yourself with the admission requirements.
Personal Touch: Establish your presence by creating an account.
Eyes on the Mail: Await an email notification, then proceed as directed.
Seal the Deal: Move to payment. Generate a code, print the invoice, and visit a bank. Once done, return to the portal to input additional information.
The Waiting Game: Post completion, keep an ear out for an SMS regarding the test.
Heed This Warning: Avoid the Traps!
In this digital age, it's essential to stay vigilant. The College of Nursing Sciences, Lafia, prioritses transparency. Remember, they will not solicit any extra fees beyond the official application charges. Stay informed, and ensure you always verify through credible channels.
---
To the passionate and the aspiring, the road to becoming a midwifery maestro begins here. NASCNS, Lafia awaits to turn your aspirations into reality. Embrace this chance and lead the change in healthcare with them. Your journey, their guidance – together, a healthier future is assured.
I hoe you find this article helpful.