Prepare to be part of something extraordinary as Spring Up College of Health Science & Tech proudly announces the commencement of the sale of admission forms for the upcoming 2023/2024 session. The institution, recognized for its remarkable dedication to healthcare education, is offering you the chance to embark on an educational journey that promises growth, knowledge, and success.
The 2023/2024 academic session at Spring Up College of Health Science & Tech, situated in the vibrant Ondo State, beckons capable individuals to join its ranks. We're not just an institution; we're a community that values learning, innovation, and professionalism.
Spring Up College Of Health Sci. And Tech, Admission Form 2023/2024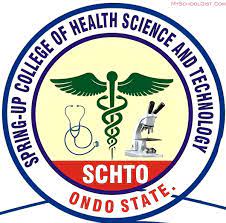 | | |
| --- | --- |
| 🏫 Institution: | Spring Up College Of Health Science And Technology, Ondo State (SCHTO). |
| 📅 Session: | 2023/2024 academic admission. |
| 📜 Programmes: | Pharmacy Tech, Medical Lab Tech, Health Info Mgmt, Dental Surgery Tech, Community Health, Environment Health. |
| 📝 Entry Req.: | 5 credit O'level passes in ENG, Maths, Biology/Health Sci, Physics & Chemistry (Waec, Gce, Neco). |
| 📍 Location: | Beside VIO OFFICE ONDO/ORE ROAD, FFF OKA ONDO CITY, ONDO STATE. |
| 💷 Form Fee: | N5,000. |
| 📞 Contact: | Call/WhatsApp: 08160436851, 09061539241, 08120356970. |
Accredited Programmes to Catapult Your Career in Healthcare
Spring Up College offers an array of accredited courses designed to prepare students for a fulfilling career in healthcare. These courses are not just about textbooks and examinations; they are geared toward equipping students with the practical skills they need to excel in the field. The available courses are as follows:
Pharmacy Technician: Ideal for those interested in pharmaceuticals and medication management.
Medical Laboratory Technician: An excellent option for those fascinated by diagnostics and lab work.
Health Information Management: Tailored for individuals who want to blend healthcare with data management.
Dental Surgery Technician: A go-to course for those passionate about oral healthcare.
Community Health: Suited for those who want to make a difference in public health.
Environmental Health: Designed for those looking to tackle healthcare from an ecological standpoint.
Admission Criteria: Know What You Need to Qualify
The Admission/Entry Requirements for SCHTO are straightforward but stringent, reflecting the college's commitment to quality education. Candidates must possess either WAEC, GCE, or NECO qualifications with 5 credit O'Level passes. These must include:
English Language: The universal medium of communication in the healthcare sector.
Mathematics: For those crucial calculations in medication and data interpretation.
Biology/Health Science: The foundation of any healthcare career.
Physics: Vital for understanding machinery and technologies in healthcare.
Chemistry: Essential for anyone dealing with medications and solutions.
READ ALSO: CRAWFORD POLYTECHNIC POST-UTME FORM
How to Apply: Take the Next Step in Your Healthcare Journey
Getting started with the application process is straightforward. Simply click the APPLY NOW button to launch your healthcare education journey. The application form comes with a fee of N5,000, which confirms your genuine interest in joining this prestigious institution.
Reach Out for Any Queries
Should you have any questions or require additional information, the administrative office of SCHTO is conveniently located beside the VIO office on Ondo/Ore Road, FFF Oka, Ondo City, Ondo State. Moreover, you can easily get in touch via phone or WhatsApp:
08160436851
09061539241
08120356970
Don't let this opportunity pass you by. Secure your future in the healthcare industry with Spring Up College Of Health Science And Technology, Ondo State. Apply now to set the cornerstone for a rewarding career.
I hope you find this article helpful.