Setting goals is one of the most effective ways for a company to improve its processes and achieve success. Achieving goals is often a collaborative effort that requires the input of many different individuals and departments. If your company is setting goals for its future, it may be helpful to explore how to achieve them through teamwork.
In this article, we describe eight corporate goals and explore how collaboration can make them possible.
Why is collaboration important when setting corporate goals?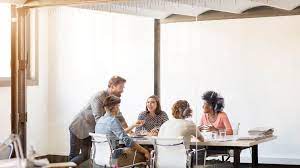 Collaboration can allow an organization to make full use of all its employees and solve challenges that prevent the company from reaching its objectives. It can also build a sense of purpose in a business's employees, increase loyalty and improve corporate culture.
Collaboration can help information flow more freely between individuals and departments. This can allow employees to learn from each other and gain new perspectives. These benefits can ultimately increase productivity, lower costs and make an organization more profitable and sustainable.
8 goals you can achieve with collaboration
Here's a list of corporate goals that may benefit you or the organization for which you work:
1. Increased productivity
Productivity is the ability of a company's employees to complete their tasks and meet their goals efficiently. An increase in productivity can help businesses expand their operations, accomplish necessary tasks and reduce their overall costs. Increasing productivity often requires the cooperation of many people within a business, especially managers and human resources personnel.
These professionals can work together to craft strategies for increasing productivity. Human resources personnel can make scheduling changes and create mandatory break schedules. Managers can then ensure that employees are taking breaks and using their time wisely. Leadership can also work on improving their communication to avoid unnecessary meetings.
2. Lower costs
Lowering costs is often an important goal for leadership teams since it can help them increase their profitability. Company costs can include payroll, materials, advertising and distribution. Organizations may be able to lower their costs by increasing collaboration between HR personnel, department heads, accountants, marketing teams and company leadership.
These individuals can meet to share and analyze their costs. They can then find ways to eliminate unnecessary expenses and identify methods of consolidation. They may reassign tasks between departments to save labor costs, identify ineffective marketing campaigns or find inefficiencies within departments. Company staff can also lower the cost of materials by increasing their communication and collaboration with their suppliers.
3. Greater customer satisfaction
Customer satisfaction is a measure of how positively customers view a company and its products or services. Increasing customer satisfaction can bring many benefits, including a larger customer base, higher profits, lower advertising costs and increased growth opportunities. Several employees typically share the responsibility of customer satisfaction, including marketing staff, managers, customer service personnel and product developers.
Increased communication between these individuals can allow companies to identify how their customer satisfaction strategies are succeeding and how they could improve. Customer-facing staff can learn what their clients value and communicate their concerns to leadership. Managers can then work with marketing and development teams to improve messaging and tailor products to customer needs.
4. Company growth
Corporate growth involves a business expanding into new markets, gaining new customers, developing new products and raising its profits. Growth is often a primary goal of many companies and it usually requires close collaboration between many individuals. Data is one of the most important parts of analyzing a company's success and planning for its future growth, and effective communication can ensure that corporate leaders understand how they can increase their growth potential.
Department managers, employees and executives can meet to share performance metrics and identify new growth opportunities. Customer service and marketing personnel may be able to identify new product opportunities or advertising strategies based on their experiences, while financial experts may find new investments to increase revenue or ways to save money. Company leaders can then take these ideas and transform them into corporate growth.
5. Employee engagement
Employee engagement is a measure of how dedicated and invested a company's employees are in their work. Increasing employee engagement can help a business retain its most valuable employees, increase productivity and improve the quality of its output. One of the most effective ways to increase employee engagement is to create a collaborative work environment. Consider making communication a priority and conducting surveys of your employees.
Increased communication and collaboration can help staff members voice their opinions and feel more valued. This can allow businesses to benefit from good ideas and can give staff a greater sense of investment in their job. Sharing company goals can also increase engagement by giving your team a greater sense of unity and purpose.
6. Improved recruitment
Strong recruitment strategies can help businesses locate and attract the most qualified employees and build an effective and competitive team. Recruitment is often a joint process that includes human resources staff, managers and low-level employees. Open communication between these groups is often essential for hiring and training staff in the most efficient way.
Management and company leadership can develop recruitment goals and candidate profiles that they can share with HR staff. Human resources personnel can then use these guidelines to hire new employees and complete onboarding. Company leadership can then receive feedback on new hires from managers and coworkers to determine whether their hiring strategies and guidelines are benefiting the business.
7. Better company culture
A company's culture includes how its employees conduct themselves, its work environment and its values. A healthy and well-defined company culture can increase employee morale, productivity, engagement and trust. Collaboration and open communication can help create a company culture that serves the needs of all employees.
Open communication can allow both leaders and employees to influence the building of a company's culture. Leaders can share their vision for the company, their core values and their plans. Employees can communicate their experiences and describe what makes work meaningful for them. This collaborative effort can help you build a culture of respect and trust in your company.
8. More effective marketing
Marketing is the part of a business that focuses on finding new customers and persuading them to purchase products and services. Efficient marketing is often a key component of building a profitable and sustainable company. Marketing is usually a collaborative process that involves customer interaction as well as coordination between different departments within a company.
Customer service personnel can conduct surveys and speak with customers to determine how their business might improve its services. They can then pass these insights on to marketing teams who can use the information to modify their messaging and make it more effective. Marketers can also work closely with development teams to build products that respond to customer needs.
I hope you find this article helpful.