The School of Undergraduate Studies, Sa'adatu Rimi College of Education (SRCOE) is now selling its degree programs (in Affiliation with BUK & ABU) post UTME form for the academic session.
Suitably qualified candidates are hereby invited to apply for the NCE programs at Sa'adatu Rimi University of Education.
    Sa'adatu Rimi College of Education Post UTME Form 2023/2024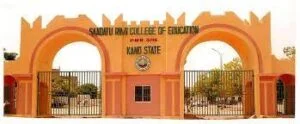 | | |
| --- | --- |
| Institution | Sa'adatu Rimi College of Education (SRCOE) |
| Program | NCE Admission 2023/2024 |
| Application | A comprehensive application procedure is available on the website |
| Fees | N1500 Acceptance Fee |
| Deadline | Unspecified |
| Note | Students are advised to complete the application process on their own or visit a business center for help |
| Contact | All correspondences will be via the college website through the applicant's page and important news will be posted on the 'Latest News section of the website |
Your Road to Admission
This process is a journey. It begins with an application, progresses through a detailed procedure, and culminates in your successful admission to SRCOE. Here, we offer a comprehensive guide to this application procedure:
Step 1: Begin Your Application Journey
Start by visiting the official SRCOE website at www.srcoe.edu.ng. From there, you will locate the application links and select your desired program.
Step 2: Create Your Profile
Fill out the application/screening form with your chosen username and password – make it something memorable. Once you've created your profile, you can proceed with the application by generating remita and making payment, either online or at a designated bank.
Step 3: Selecting Your Department
Visit the 'Schools & Departments' section on the website to help you decide on your chosen department. Afterward, you can log out and log in again using the application links and the login details you set up earlier.
Step 4: Stay Informed
Going forward, your username and password will be used for all your academic activities. Keep an eye on the Latest News and the applicant's page on the college website for important updates.
Step 5: Complete the Application Process
Complete your application by printing your acknowledgment letter and application payment receipt. Afterward, await the announcement of the screening exercise from the academic office. All credentials should be presented to the academic office for screening.
Step 6: Checking Your Admission Status
Consistently check your application page for admission updates using your username and password. Once your admission is granted, you will be notified via this medium.
READ ALSO: CITI POLYTECHNIC POST UTME FORM
Step 7: The Acceptance Fee
Upon receiving your admission offer, you will be required to pay an acceptance fee of N1500 before you can download your admission letter.
Step 8: Registration Payment Clearance
Following this, visit the Student Affairs Unit for your registration payment clearance form.
Step 9: Completing the Registration Process
Log into your account, click the registration link, generate Remita, and make the payment either via card or at a bank branch. Print out your payment receipt and ensure the payment status is successful. Refer back to the academic office for your admission number.
Step 10: Course Registration and Semester Preparation
With your admission number, log in again, click on the course registration link, select your appropriate courses, save, and then confirm by clicking on 'Done Adding Courses'. Print your semester form, generate your exam card, and print that too.
Step 11: Final Steps
Submit a copy of your semester form and exam card to your level coordinator.
Do It Yourself or Seek Assistance
Candidates are advised to carry out these processes independently. However, for those who require assistance with the online application, admission, and registration processes, the business centers of your choice can be an excellent resource.
Apply Now
Ready to begin your journey at SRCOE? Click here to apply now!
SRCOE looks forward to welcoming a new cohort of committed, enthusiastic, and passionate future educators. This guide is your roadmap to becoming part of this vibrant community.
I hope you find this article helpful.