Each holiday season provides professionals with unique opportunities to expand their professional networks and search for new job openings. Holiday seasons also offer professionals several benefits that may not arise during other times of the year. Understanding how to optimize a holiday job search can help you implement effective strategies to secure roles. In this article, we discuss the benefits of pursuing jobs during the holiday season and tips for improving your holiday job search.
What are some benefits of looking for jobs during the holidays?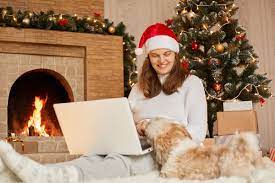 Here are some common benefits you may experience while pursuing jobs during a holiday season:
Available Positions
Business staffing needs usually remain steady or increase during the holiday season. Due to this, employers often continue to interview and hire candidates during these times. They may want to fill open positions before the year ends to adhere to their company's staffing budget. This allows them to avoid an approval process for a position remaining unfilled because they would have to add that job back into the budget for the next year.
A manager might also desire to fill a position so their organization can meet production goals immediately in the new year. Companies that plan to implement new strategies or initiatives in January may aim to hire employees to prepare for an increase in responsibilities.
Fewer competitive applicants
You might also encounter less competition for available jobs during the holiday season. Other candidates may delay their job search until after the holiday season, so there's a chance that some positions have a smaller number of applicants. An employer might be able to dedicate more time to reading your resume and scheduling an interview when there are fewer applications.
Seasonal opportunities
Some organizations may offer seasonal and holiday jobs that are only available during a certain time of the year. Although these positions often have a defined end date, you can improve your professional network within the company by offering seasonal positions and gaining experience. Seasonal opportunities may also help you prove your value to an organization, which might lead to a permanent position withing the business once the holidays conclude.
Available time
Many applicants also have more available time to search for roles during the holidays, especially if they already have a job. Consider using your holiday time off of work to search for open positions. You might also improve and update your resume and professional profiles during this time. You can also use this season to improve your proficiency and dedication to your field. For example, you might learn a relevant skill, earn a certificate or become familiar with new technology in your industry.
8 tips to optimize your holiday job search
Here are eight tips you can follow to improve your holiday job search:
1. Organize your search
Consider ensuring that your job search remains organized by recording important dates, contact information and specific job requirements. Try to manage your computer files so you can access your resume and other necessary documents easily. Defining your professional objectives can also help you determine what you require for your job search. Consider establishing reminders for interviews and application deadlines. You might use a spreadsheet, calendar or other organizational tools to track your schedule properly.
2. Update your resume
Another way to optimize your holiday job search is to keep your resume updated with your most recent experience and responsibilities. Consider whether you've developed any new skills or performed new tasks that you can include on your resume. You might rewrite certain sections to better highlight your abilities from the last time you updated your resume.
3. Contact professionals in your network
You can also use the holiday season to contact people in your network. You might extend a holiday greeting to a previous manager or colleague to re-establish your relationship with them. Consider providing updates on your job search and emphasizing your interest in the types of jobs for which you're searching. You may then ask the contact for professional advice or references if possible.
You can also send holiday greetings to recruiters you've contacted in the past. You might send a physical card if you have their contact information or a simple email to wish them a happy holiday season. This can help you start a conversation that may result in a professional opportunity at a later date.
4. Review your strategy
You can also review your job search strategy to identify what has succeeded in the past and what you can improve upon. For example, you might try using different platforms and websites for applying to jobs. Instead of using the same documents for each position, consider researching the job title and the employer's business to customize your application. Some professionals also choose to search for roles offline and visit companies in person to inquire about openings.
5. Make new connections
Holiday networking events can provide you with opportunities to expand your professional network. You can research to find gatherings hosted by professional groups that are relevant to your job search. Try to define your professional goals and find opportunities to communicate these at holiday events. Community events are good space for introducing yourself to employers and learning the names and professional titles of potential contacts. Also, consider volunteering during the holiday season to connect with other professionals in your industry.
6. Remain flexible
While the holidays are usually a busy time for businesses and candidates, try your best to maintain flexibility in your schedule. This can help ensure that you remain available in case an employer wants to schedule an interview with you during this season. Making time for an interview during the holidays may emphasize your desire and dedication to work for a particular organization.
7. Continue following your routine
Another helpful tip for job searching during the holiday season is to to maintain the routine you established before the holiday season. You might adjust it to meet the needs of your holiday schedule while continuing to pursue your goals. This can help you return seamlessly to your routine after the holiday break.
8. Consider a part-time opportunity
Working a part-time job during the holidays can help you gain experience while you search for a permanent position. Pursuing experience during the holidays while working in another role may demonstrate your ability to handle deadlines and competency in multitasking. Part-time positions might also help you learn more about an industry and determine whether it's the right field for you.
I hope you find this article helpful.