The Dreamer Scholarship is provided through the Student Government Association (SGA) and the Rho Beta Chapter of Sigma Lambda Beta (SLB) for DACA-affiliated or undocumented students planning to continue their education at Wichita State University.
Awards are based on academic excellence, leadership in on-campus activities/organizations and financial need. The committee will award students scholarships ranging from $500 to $1,500.
SGA And SLB Dreamers Scholarships in the USA 2023/2024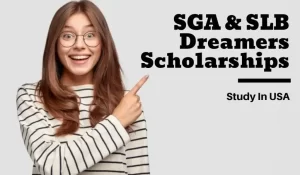 The university provides students with comprehensive and top-tier career and information services, ensuring professionalism throughout. This encompassing support entails job-related assets, counselling sessions, and skill enhancement workshops, along with initiatives for student growth and community engagement.
Application Deadline: The Dreamer Scholarship is now open.
Brief Description
University or Organization: Wichita State University
Department: NA
Course Level: Undergraduate or graduate degree
Awards: Tuition-fees
Access Mode: Online
Number of Awards: NA
Nationality: Domestic students
The award can be taken in the United States
Eligibility
Eligible Countries: USA
Acceptable Course or Subjects: The sponsorship will be awarded in any undergraduate degree subjects in any subject offered by the university.
Admissible Criteria: To be eligible, the applicants must have high school certificates with a good academic record.
Be an incoming or current WSU student
Must have a minimum of 2.5 GPA at the University or a 3.0 GPA for incoming high-school graduates
Must be an undocumented student and/or student involved with the Deferred Action for Childhood Arrivals (DACA) program.
How to Apply
How to Apply: To apply, applicants need to be admitted to the university. After being accepted, claimants can complete the application form for this studentship.
Supporting Documents: Applicants must submit all following documents:
Attach a typed one-page essay about yourself. Must include information describing your leadership and service to Wichita State University.
Attach a copy of the current unofficial transcript,
Admission Requirements: To gain admission to the university, the applicant can check the admission requirements.
Language Requirements: All applicants are required to provide evidence of their English language.
Benefits
The committee will award students scholarships ranging from $500 to $1,500 to the successful candidates for the session year 2023/2024.