The Fully Funded SOKA University of America Scholarship is open to all international students. The study program is open to all international students who are willing to study at SOKA University of America. Students can access scholarships and grants that cover educational expenses. These awards are granted based on merit or financial need and come with specific criteria and conditions for renewal.
SOKA University provides a liberal arts education that develops global citizens and critical thinkers capable of providing leadership in a rapidly changing world. Their program combines courses from a variety of disciplines, such as service learning, academies, and languages focusing on human rights, peace, and environmental conservation.
Fully Funded SOKA University Of America Scholarship 2024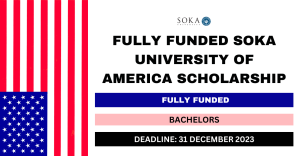 DEADLINE
31 December 2023
STUDY IN
United States Of America
STUDY LEVEL
Bachelor, Undergraduate
SUBJECTS
Subjects offered by the university
FUNDING TYPE
Partial Scholarships, Fully Funded Scholarships
Scholarship Eligibility
The eligibility criteria for the Fully Funded SOKA University of America Scholarship are stated below:
1. Eligible Countries: Applicants from all nations are eligible to apply
2. Acceptable Course or Subjects: The scholarship will be awarded in any subject offered by the university
3. Admissible Criteria: To be eligible, the applicants must meet all the given criteria:
4. Applicants must be enrolled full-time in a University degree program.
5. They must also be at the start of their education.
6. When admitted to SOKA University, students with outstanding academic achievements are awarded the SOKA Merit Scholarship.
Scholarship Benefits
The Fully Funded SOKA University of America Scholarship will provide  $5,000 for study expenses for one calendar year. The Scholarship Committee selects the best three academic students from SUA's freshman, sophomore, and junior classes each year to receive the Soka Academic Merit Scholarship for the next academic year.
Others
How to Apply
READ ALSO: SKYLINE UNIVERSITY NIGERIA POST-UTME SCREENING
1. Domestic students seeking SOKA University of America Grants and Scholarships must complete the Federal Application for Student Aid (FAFSA), whereas international students must complete both Soka's financial aid application for international students and the Dream Financial Aid Application if a Dreamer student.
2. Supporting Documents: The following documents must be included in the application for admission:
a) A pre-qualification degree
b) Copies of academic transcripts
c) Certificates of English language proficiency
d) A statement and a copy of passport.
3. Admission Requirements: Applicants must fulfill the following admission requirements:
4. A high school diploma is the bare minimum level of education needed to enroll in an undergraduate program.
5. Language Requirement: The English proficiency requirement for admission to the IBS program is a score of at least 6.0 on the IELTS or 80 on the TOEFL-iBT. Applicants must also present proof of English language competence showing their score.