The St. Charles Borromeo College of Nursing in Onitsha, Enugu State, is pleased to release the official list of accepted candidates for the 2023/2024 academic year. This announcement is intended for the benefit of applicants who have endeavored to secure a place at the prestigious institution.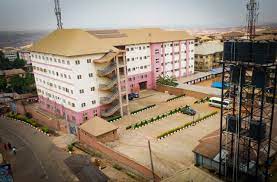 How to Verify Your Admission Status at St. Charles Borromeo College of Nursing, Onitsha
The St. Charles Borromeo College of Nursing has efficiently digitized the admission list and made it publicly accessible online.
A Heartfelt Congratulations to the Fortunate Applicants
To those who have been successful, we extend our warmest congratulations. Your hard work and perseverance have paid off, and a fulfilling journey in the field of nursing awaits you.
Time-Sensitive: Payment of Acceptance Fee
Successful candidates are obliged to make a non-refundable payment of N30,000.00 (Thirty Thousand Naira) for the Acceptance Fee. This payment must be made within a fortnight (two weeks) of the admission list's publication. Below are the required details for making the payment:
Account Name: St. Charles Borromeo College of Nursing, Onitsha
Account Number: 1014412009
Bank Name: Zenith Bank
Necessary Steps Following Payment
Upon the completion of your payment, candidates are advised to bring the payment teller to the school's administrative office. There, they will receive their prospectus from the Secretary's Office.
Caveats Regarding Payment and Admission Status
Kindly note that the payment of both the Acceptance Fee and any other associated charges outlined in the prospectus does not automatically guarantee your admission. Official receipts must be obtained from the College's accountant for all payments made. This serves as a crucial aspect of proper documentation and secures your place within the academic framework.
Act Swiftly—Limited Vacancies Available
It is essential to recognize the urgency of finalizing your admission procedures. The college operates on a limited admission policy, and therefore prompt payment is strongly advised. Delaying this process might risk losing your hard-earned spot.
In conclusion, we wish all applicants the very best as they take this significant step in their academic and professional careers. May you achieve all your aspirations in the healthcare sector.
Note: If you have any further questions or require additional clarification, please contact the College's administrative office.
I hope you find this article helpful.