The NITDA/Coursera Scholarship Program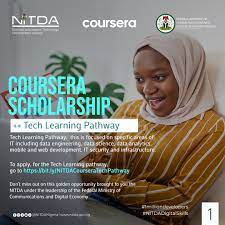 Generally, Coursera courses are free to audit (you can go through the modules and some quizzes), but if you want a globally-recognized certificate from them, you'll need to pay. With the NITDA-Coursera scholarship, you don't need to pay a single kobo. In this article, we shall look at an overview of the NITDA Coursera scholarship program.
In a landmark partnership, the National Information Technology Development Agency (NITDA) has joined forces with Coursera to provide scholarships enabling Nigerians to earn professional certifications. These certifications, recognized by leading tech multinationals such as Meta, Google, IBM, and top-ranked US universities, will empower recipients with the skills and knowledge necessary to thrive in the global digital landscape.
The program includes two distinct pathways: Category A (IT Career Pathway) and Category B (Complementary Skills Pathway).
Under Category A, the IT Career Pathway, 19 distinct professional certification programs are available. These programs consist of a series of interconnected courses designed to provide a deep understanding and practical skills essential for securing employment within the IT sector. Completion of each course within the program yields a certificate, and upon finishing all required courses in the program, participants will earn a professional certification.
Category B, the Complementary Skills Pathway, comprises four certification programs. These are designed to complement IT career skills and hone capabilities in digital productivity tools, entrepreneurship, and freelancing.
Prospective participants can click on the program links to learn more about the professional certifications before making a selection. Successful applicants will receive a Coursera license via their email as a joining link, granting them access to the selected program and enabling them to enroll in a course.
The Coursera license will be valid for a six-month period. Scholars are encouraged to maximize this opportunity by completing as many professional certifications as possible. However, they can only enroll in one certification at a time.
For individuals interested in applying for the scholarship program, please click the following link: NITDA Coursera Cohort 2 Application.
This collaboration underscores NITDA's commitment to empowering Nigerian citizens with digital skills and aligns with its #1millionDigitalSkills initiative. The aim is to elevate the country's digital workforce and drive Nigeria's technological advancement in the global digital economy.
I hope you find this article helpful as well as interesting.