The University of Oxford, in a commendable partnership with Grace Lake Partners and the Rewley Fund, is now welcoming applications for the Oxford-Grace Lake Scholarship 2024. This substantial scholarship initiative is not just a financial endowment but a symbol of empowerment for Nigerian students with exemplary academic records and a vision for their country's development.
The Oxford-Grace Lake Scholarship 2024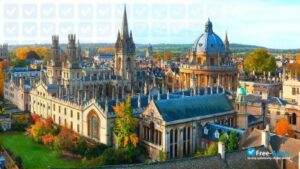 Alumni Commitment
Ladi Delano: An Alumnus with a Vision
Ladi Delano, a proud two-time alumnus of the Saïd Business School at Oxford (MSc in Major Programme Management, 2018; Postgraduate Diploma in Global Business, 2016), has turned his academic accomplishment into a legacy. In 2014, he co-founded Grace Lake Partners (GLP), an investment firm with a dual mission to address societal needs in Nigeria and create economic value. His passion for education and Nigeria's progress materialised through the GLP Cares Foundation, which has been instrumental in providing full scholarships for Nigerian scholars.
Drawing on his experience and the excellence of Oxford Saïd, Delano, through his foundation, established the Oxford-Grace Lake Scholarship. This scholarship, augmented by the Rewley Fund, aims to support exceptional Nigerian candidates to study at the University of Oxford.
A Generous Academic Grant
Scholarship Value
The scholarship is valued at a significant sum of £20,000, providing a substantial contribution towards the cost of attending one of the world's leading institutions.
RECOMMENDED: BIGSAS SCHOLARSHIPS FOR AFRICAN WOMEN SCHOLARS 2024
Eligibility
Candidates must be 

ordinarily resident in Nigeria

, affirming the scholarship's aim to foster local talent.
Selection Criteria
Academic and Social Impact
The scholarship is awarded based on 

academic excellence

, as evidenced by degree results, GMAT or GRE scores, and other notable academic recognitions.
A strong commitment to Nigeria's development is essential, coupled with a clear intention to continue contributing positively to the region's progress.
 Application Process
Prospective students must submit a 

complete MBA application

 to the University of Oxford.
A 

scholarship essay

 must be uploaded within the 'Funding' section of the MBA application form.
Scholarship Essay Prompt
Applicants are asked to expound, in 

no more than 500 words

, on their contributions to Nigeria's development and their plans in this regard.
Application Timeline
There is no strict deadline for this scholarship. Candidates will be considered following each MBA admissions deadline. However, to increase the likelihood of receiving the scholarship, early application is strongly advised.
More Information and Deadline
For more details about the scholarship, eligibility, and the application process, interested candidates should visit the Oxford-Grace Lake Scholarship page.
Please note: The deadline for the scholarship has not been specified. Applicants are encouraged to apply early, as the availability of the scholarship may not be guaranteed in the later stages of the MBA admissions process.
I hope you find this article helpful.