101 Best Secondary Schools For Your Child To Attend In Nigeria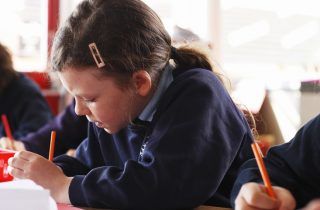 Best Secondary Schools: You may be wondering, what is the best secondary school in Nigeria to register my son/daughter instead of going abroad? This is a good question every concerned parent or student should ask before enrolement.
In this article, I shall list the top 101 best secondary schools in Nigeria for this year 2018. You may also click here to read the top ways to help your children grow academically.
Top 101 Best Secondary Schools in Nigeria
The following secondary schools are the hottest, top, best and most popular secondary schools in 9Ja. You can decide the one to choose based on your location and other personal factors:
Kings' College, Lagos
Atlantic Hall, Poka-Epe, Lagos
Loyola Jesuit College, Gidan Mangoro, Karu-Karshi Road, Abuja
Grange Schools, Ikeja, Lagos Sate
Christ The King College, Onitsha
Vivian Fowler Memorial College, Chief T. A. Doherty Layout, Oregun, Ikeja in Lagos
Day Waterman College, Ikoyi, Lagos
LEKKI BRITISH INTERNATIONAL SCHOOL Victoria Arobieke Street, off Admiralty Way, Lekki Phase 1, Lagos. Lekki British International School
Lumen Christi International High School, Uromi, Edo State
Corona Secondary School, Agbara, Ogun State
Olashore International High School, Iloko Ijesha, Oshun State
St Gregory's College, Ikoyi, Lagos
Avicenna School, Lagos
BRITISH INTERNATIONAL SCHOOL Landbridge Avenue, Oniru Private Estate, Victoria Island, Lagos State
GREENSPRINGS SCHOOL, Lagos 32, Olatunde Ayoola Avenue, Anthony, Lagos
The Capital Science Academy, Abuja
Nigerian-Turkish International Academy, Abuja
Louisville Girl's High School, Ijebu-Itele, Ogun State.
Premiere Academy, Lugbe, Abuja
St Francis Catholic Secondary School, 107, Liasu Road, Idimu. P. O. Box 91, Oshodi, Lagos State, Nigeria.
CHRISLAND COLLEGE Ladipo Oluwole Avenue, Ikeja, Lagos.
Regina Pacis College, Abuja
DOWEN COLLEGE Regency Town, Lekki, Lagos.
Brookstone School secondary, International Airport Road, Igwuruta, Rivers State
Bethel Demonstration Schools, 3 ,Asamah Avenue, Effurun, Warri Central, Delta State
Saint Michael's International School, Dadin Kowa Road, Kontagora, Niger State
Hillcrest School Jos, 13 Old Bukuru Road, Plateau State
Chrisland College, 72 ,Old Ejigbo Road, Idimu Egbeda, Alimosho, Lagos State
Abuja Capital International College, 352/353 Road, FHA Gwarinpa 11 Estate, Gwarinpa, Abuja
Charles Dale Memorial International School, 12 Army Range Road, Igwuruta-Eneka, Rivers State

Thomas Adewumi International College, Adewumi Drive, Oko P.M. B. 1050, Omu-Aran, Kwara State, Nigeria.

Lumen Christi International High School, Arue – Uromi, Benin City, Edo State
Adesoye College, Igosun Road, PB 4700,Offa, Kwara State
Holy Rosary International School, University Junction, Zone 6, Wuse, Abuja
CITADEL INTERNATIONAL COLLEGE, Arigidi Road Ikare Akoko, Ondo State,
Stage One International School, 4Th Avenue, 403 Road, PW, Kubwa, Abuja
Queen's College, Yaba, Lagos
Capville School, House 58/60 4Th Avenue, Gwarinpa Estate, Abuja
Angelwings Comprehensive College, Phase 1, Site 1, Pw (Maroko) Kubwa, Abuja
Air Force Comprehensive School, Iyana-Offa , Ibadan, Oyo State
Ifako International Secondary School, 99/101 ,Iju Road, Agege, Lagos
Barachel Group of Schools, Plots 4/5, Agbado Oke-Aro Road, Giwa, Ogun State
Florie Private School, 44 ,Efunlaruja Street, Ori Okuta, Ikorodu, Lagos State
Fountain International High School, Plot 100A ,Haruk Estate Road, Rumuigbo, Obio-Akpor, Rivers
Graceland International School, 25/27, Liberation Stadium Road, Elekahia, Rivers State
Hallmark Secondary School, Italurowo Ondo/Akure Road, Ile-Oluji Junction, Ondo State
Crescent Hall International School, 30A/B ,Ladoke Akintola Crescent, GRA, Ikeja, Lagos
Kaduna International School, Wurno Road, Off Rabah Road Kaduna, Kaduna State
Igbinedion Educational Centre, 218/220 Murtala Mohammed Way, Benin, Edo State
King's High School, Abule-Odu B/Stop, Badagry Ex Satellite Town, Lagos
Marella International College, 28, Adenuga Street, Kongi, Bodija, Ibadan, Oyo State
Albesta Academy, Eleko Beach Road, Ibeju Lekki, Lagos
Mercy Grace School, 2, Boundary Road, Benin City, Edo State
Mea Mater Elizabeth High School, Ojiagu Agbani, Nkanu West Local Government Area, Enugu, Enugu State
American International School Of Abuja, 9 Mambila Street Off Ibb Way, Abuja
Jextoban Secondary School, 1/3 Ibadan Street, Iyana School B/S, Alapere,Ketu, Lagos
Nickdel Schools, Barracks Roads, PMB 167, Agodi, Ibadan North, Oyo State
Bethel Demonstration Schools, 3 ,Asamah Avenue, Effurun, Warri Central, Delta State

Louisville Girls High School, Ijebu Itele

, Ogun State
Moret Comprehensive College, Adamasingba, Ibadan, Oyo State
Holly Rosary International School, University Junction, Zone 6, Wuse, Abuja
Henry Alex-Duduyemi Memorial College, Ife-Ibadan Expressway, Ajebandele, Osun State
Qiblah High School, Aleshiloye Gra, Ibadan South-West, Oyo State
University Preparatory Secondary School (UPSS), Benin City, Edo State, South South Nigeria. Information
Regent Schools, Abuja
Greater Tomorrow Secondary School, Reuben Acho Avenue, GRA, Benin City, Edo State
Great Scholars International School, Km 3, Falilat Ogunkoya Avenue, Old Odelemo Rd, Shagamu, Ogun State
Infant Jesus Academy, Old Anwai Road, Opp Government House, Asaba, Delta State
Ave Maria Girls' Secondary School, Jikwoyi, Along Karshi Road, Abuja, FCT, Abuja
Federal Government College, Kwali, Abuja
Sunjem Private School, 6 ,Oladejo Close, Barracks, Ifako Gbagada, Kosofe, Lagos
Crescent Hall International School, G.R.A, Ikeja, Lagos
The Centagon International School, Maitama, Abuja
Albesta Academy, Ibeju Lekki, Lagos
Lifeforte International School, Kongi, Bodija, Ibadan North, Oyo State
Deeper Life High School, Rumoudara, Port Harcourt, Rivers State
Agape International Academy, Garki II, Abuja
Ronik Comprehensive School, Ejigbo, Oshodi Isolo, Lagos
Goshen International School, Gwarimpa, Abuja
Premiere Academy, Abuja Municipal, Abuja,
Whiteplains British School, Abuja
Trinitate International School, Igwuruta, Port Harcourt, Rivers State
Ifako International Secondary School, Agege, Lagos State
Estaport Secondary School, Soluyi Gbagada, Shomolu, Lagos
Chamberlain American International School, Kubwa, Kubwa, Abuja
Capville Schools, Gwarinpa, Abuja Municipal, Abuja
Archdeacon Brown Education Centre, Woji, Port Harcourt, Rivers State
Global International College, Olu Obansanjo Road, Port Harcourt, Rivers State
Whitesands School, Lekki Peninsula Phase 1, Eti Osa, Lagos
Grace Soild Rock School, Akinyele, Alimosho, Lagos
Living Spring International College, Gwarinpa Housing Estate, Gwarimpa, Abuja
Continental College, Abuja Municipal, Abuja
Margaret Thelma International School, Karu, Abuja Municipal, Abuja
The Threshold International School, Port Harcourt, Port Harcourt, Rivers State
Verbins International School, Suleja, Abuja Municipal, Abuja
Eminent Comprehensive College, Iyana Ipaja, Alimosho, Lagos State
Spinel International Academy, Karu, Abuja,
Kings International College, Moniya, Akinyele, Oyo State
Lordswill Academy, Gwarimpa, Abuja
New Hope International School, Kuje, Abuja
St. Andrew's College, Emu Edo State
Other Top Schools Recommended By People
Pearville School, Owerri
Deeper Life High School Lagos
Adorable British College in Enugu
Meadow Hall Education
Word of Faith Schools, GRA, Benin City
Gloryland secondary school in Igarra
COLLEGE OF COMMERCE WARR
waddell training institute calabar
Premier International School, Wuse II, Abuja
ISI, UI Ibadan
Louisville Girl's High School, Ijebu-Itele, Ogun State
Read Also: Top 100 universities in Nigeria
RECOMMENDED


A. JAMB, POST UTME AND WAEC APP
B. GET MY LATEST POSTS FOR FREE

WHAT ELSE DO YOU WANT?


A. I WANT TO SEARCH
B. COMPLETE JAMB GUIDE
C. ALL ABOUT WAEC AND NECO
D. VACANCIES AND RECRUITMENT 
E. LATEST NIGERIA SCHOOL NEWS
F. ACADEMIC AND CAREER GUIDE
G. SCHOLARSHIPS AND INTERNSHIPS

TRENDING SPECIAL GUIDE
Latest posts by Isaac Inegbenehi
(see all)