The University of Lagos (UNILAG) has officially announced the commencement of its Online Direct Entry Screening Exercise for admissions into all available courses for the forthcoming 2023/2024 academic term. This essential update aims to enlighten the general populace that online registration will span from Monday, 11th of September to Friday, 29th of September 2023.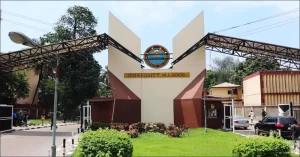 | | |
| --- | --- |
| 🏫 Institution | University of Lagos (UNILAG) |
| 🗓️ Dates | 11th to 29th September 2023 |
| 📜 Programme | Direct Entry for All Courses |
| 🎯 Eligibility | First choice in DE JAMB, 5 O-level credits including English and Maths |
| 💰 Fee | N2000 |
| 📝 Application | Online registration, document upload |
| 🚫 Restrictions | Minimum age 16, participation in screening mandatory, no re-admission for expelled students |
| 📞 Enquiries | Contact via email and specific phone numbers |
Who Is Eligible for the UNILAG Direct Entry Screening?
Academic Requirements
Eligibility for UNILAG's Direct Entry admission is quite specific. Firstly, candidates must have selected the University of Lagos as their preferred institution during their 2023/2024 Direct Entry (DE) JAMB application. Additionally, candidates must secure a minimum of five (5) credit passes in relevant O/Level subjects, including English Language and Mathematics, achieved in a single sitting.
Additional Requirements
Candidates are further required to meet all the O/Level and Direct Entry requisites for their chosen courses as stipulated by the Joint Admissions and Matriculation Board (JAMB). For a more comprehensive understanding, aspirants can refer to the JAMB brochure available online.
Important Notes
Age and Participation Criteria
It is imperative to note that candidates younger than sixteen (16) years of age as of October 31, 2023, are not eligible to apply. Moreover, non-participation in the online screening will automatically disqualify a candidate from the admission process.
Consistency in Personal Information
Candidates must ensure uniformity in the personal details, such as name, date of birth, state of origin, and local government area, across all documents and results.
Special Cases: Former and Expelled Students
Former students whose admissions were rescinded due to academic underperformance or absence can reapply. However, the reapplication should be for a course distinct from the one previously pursued. It should be noted that any student expelled from UNILAG is ineligible for re-admission.
Drug Use Policy
The University exercises a strict zero-tolerance policy towards drug abuse. Admission offers to new students found to have tested positive for drug use will be withdrawn.
Step-by-Step Application Procedure for UNILAG Direct Entry
Required Fee and Official Portal
The screening exercise incurs a fee of N2000. To begin the application process, prospective candidates should navigate to the University of Lagos website.
Initiate Fresh Application: Click on the 'Start Fresh Application' tab.
Select Application Type: Choose 'Direct Entry (DE) Application'.
User Login: Use your JAMB registration number as the username and your surname in lowercase as the password.
Payment Advice: Generate and print payment advice.
Fee Payment: Proceed to any commercial bank for payment or opt for online payment.
Continue Application: Return to the Application Portal on the UNILAG website to complete the screening form.
Document Upload: Upload your O'Level and A'Level results.
Data Verification: Click 'Preview' to validate the correctness of the data inputted.
Submission: Click 'Submit'.
Print Registration Slip: Finally, print out your Direct Entry e-registration slip.
Document Submission
After printing the Direct Entry e-registration slip, candidates should proceed to the Admissions Office, situated on the 1st Floor, Room 174, Senate House, University of Lagos, to submit the e-registration slip along with required credentials, including JAMB Direct Entry applications and completed online registration forms.
For additional information or clarification, interested candidates may contact the Admissions Office through email at admissions@unilag.edu.ng or via the following telephone numbers: 09053006772, 08027953216, and 08141656802. Candidates are highly encouraged to strictly adhere to the laid-down guidelines and seek necessary clarifications where needed.
Applicants are urged to read through these guidelines carefully to ensure a smooth and successful application process.
I hope you find this article helpful.