The Fully Funded University of Technology Sydney Scholarship is open to applicants all around the World. This scholarship is fully funded to Pursue a Master's Degree or Ph.D. Degree from the University of Technology Sydney. The award is applicable to all the Academic Fields available at the University.
Fully Funded University Of Technology Sydney Scholarship 2024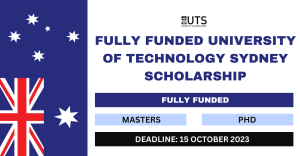 DEADLINE
15 October 2023
PROVIDER
University Of Technology Sydney
STUDY LEVEL
Masters, PhD, Postgraduate
SUBJECTS
Subjects offered by the university
FUNDING TYPE
Fully Funded Scholarships
Scholarship Eligibility
The eligibility criteria for the Fully Funded University of Technology Sydney Scholarship are stated below:
1. These scholarships are for EU & NO-EU for both students.
2. Must have good Previous Academic Performance
3. Academic merit considers the nature and level of the applicant's highest, relevant qualification
4. Research and/or Professional Experience
5. Evidence of an applicant's research achievements and relevant professional experience.
Scholarship Benefits
The benefits of the Fully Funded University of Technology Sydney Scholarship are:
1. Full Tuition Fee
2. Living Allowance – Up to 3 years at equivalent to RTPS rate (2023 rate is $32,500 per annum, indexed)
3. Overseas Health Cover (OSHC) Single or Family cover for the duration of the program
READ ALSO: ICONIC OPEN UNIVERSITY POST-UTME SCREENING
Others
Available Study Fields:
1. Analytics and Data Science
2. Business
3. Communication
4. Design, Architecture, and Building
5. Education
6. Engineering
7. Health
8. Health (GEM)
9. Information Technology
10. International Studies
11. Law
12. Science and Mathematics
13. Transdisciplinary Innovation.
I hope you find this article helpful.