The Faculty of Arts and Social Sciences at the University of Sydney is presenting a mind-blowing opportunity called the International Postgraduate Research Scholarships in Australia for the academic year 2023-2024 This educational award is open to support students from all nationalities who want to enrol in postgraduate research degree programs at the University of Sydney are eligible.
International Postgraduate Scholarships in Australia 2023/2024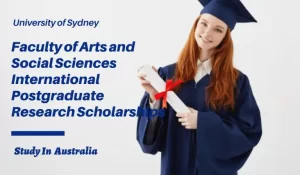 During their time at the University of Sydney, students acquire valuable transferable study skills that prepare them to adapt to and effectively navigate the diverse challenges they will encounter throughout their careers.
Application Deadline: The last date to enter the particular scholarship is 31 October 2023.
 Description
University or Organization: University of Sydney
Department: Faculty of Arts and Social Sciences
Course Level: Postgraduate Research
Award: $37,207 p.a. (up to 3.5 years), SSAF and OSHC
Number of Awards: NA
Access Mode: Online
Nationality: Domestic/International
The Award can be taken in Australia
Eligibility       
Eligible Countries: All international students are eligible to apply. 
Eligible Course or Subjects: Students can apply for a postgraduate research degree at the University of Sydney.
Eligibility Criteria: To be eligible, the applicants must meet all the following criteria:
Be an international student
Have applied for admission into a PhD in the Faculty of Arts and Social Sciences. Part-time applicants will need to demonstrate extenuating circumstances as to why they are unable to enrol full-time
Hold either an honours degree (first class or second class/division 1), a master's degree with a significant research component or demonstrate appropriate professional experience and alternative qualifications in the field of study
Be willing to undertake research in one of the following research projects:
How to Apply
How to Apply: Students can submit their admission applications by logging in to the university portal at the University of Sydney. After that, applicants must submit an online application form for this award.
Supporting Documents: Submit a personal statement on the following:
Demonstrated academic achievement,
Demonstrated research experience,
Curriculum vitae,
Area of study and/or research proposal,
Feedback from two academic referees,
A personal statement that outlines interest in this area of research and details relevant academic and/or professional experience that is relevant to the research project,
Good proficiency in the Indonesian language (minimum requirement of intermediate-level reading and speaking skills)
Admission Requirements: Applicants must fulfil the entry requirements of the university.
Language Requirement: If English is not your first language, you will need to provide proof of your English proficiency before you can commence your studies at the University.
READ ALSO: MARSHALL SCHOLARSHIPS FOR AMERICANS IN THE UK 2023/2024
Benefits
This scholarship provides the following benefits to a full-time enrolled student:
stipend allowance of $37,207 per annum for up to 3.5 years
Student Services Amenities Fee (SSAF) for up to 14 research periods
Single Overseas Health Cover (OSHC) for up to 55 months
If the student is enrolled part-time and approved to hold the scholarship on a part-time basis they will receive the stipend allowance at 50% of the full-time rate and the other scholarship benefits for the equivalent full-time duration.
I hope you find this article helpful.