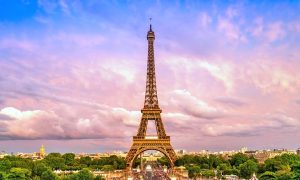 What makes a vacation destination affordable? There are a lot of countries that have affordable vacation destinations in Europe.
Choosing the right vacation destination depends on certain factors such as taste, cost, lifestyle, and the serenity of the place.
The choice depends on the individual. But when you are on a tight budget, you don't need to worry. Several vacation destinations in Europe wouldn't break the bank.
As always, the holidays come sooner than expected, so it is best to plan ahead for your trip anywhere in the world.  When it comes to affordable must-see places, there are a lot Europe has to offer.
This is why different nationals across the globe are pushing through summer breaks and leisure periods to come to Europe. The intention is to have a feel and enjoy the endless attractions that vacation destinations in Europe bring.
According to UNWTO, Europe is the most visited region in the world as 50% of tourist destination arrivals are in Europe.
What makes travel lovers seek to explore Europe includes the fascinating history, rich culture, religious heritage, savoring cuisine, architecture, gastronomy, business opportunities, landmarks, and people.
One of the regions that account for popular vacation destinations is France. France alone attracts 83 million tourists every year, making it the country with the highest international tourist arrival.
But is France among the most affordable vacation destinations in Europe? Visiting Paris or Dublin can be expensive but several vacation destinations are cheap and offer great tourism delight.
These holiday venues are not only budget-friendly but offer a top-of-world experience.
Let's check out 5 on our list.
Recommended: Top 200 Best Universities in Europe
1. Croatia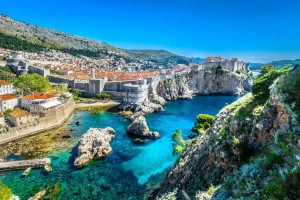 Croatia is a beautiful central European country along the Adriatic sea. You might not give this country a thought but Croatia has seen an increase in tourist arrivals in recent years. Today, Croatia is one of the most visited vacation destinations in Europe.
There are hundreds of islands to explore with the Plitvice National park, which is one of the most beautiful in the world. You will find attractive architecture to take pictures with.
What about the delicious food and delectable wine? In Croatia, a meal is incomplete without a good wine to complement it.
The weather in Croatia is charming and you will find several beaches to warm under the sun. There are opportunities to sail the coastline and view beautiful landscapes and epic Hollywood scenes (Game of Thrones). The locals are lovely, welcoming, and hospitable people.
The best news is that these great adventures and top-of-the-mind activities in Croatia are cheap compared to many celebrated European vacation destinations.
On average, you can anticipate your trip to Croatia to cost between €55 -255 per day (about 58-269 USD per day). This largely depends on your spending. A budget trip for a week in Croatia is €959 (1,000 USD) to stay comfortably.
Where costs may increase is getting accommodation in places like Dubrovnik and Split.
Croatia is filled with surprises. You will find it very appealing to prompt your return here as a tourist. With the country's switch from Kuna to Euro from 1st January 2023, tourists should expect more surprises.
2. Bulgaria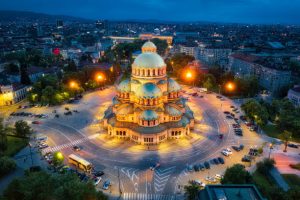 Aside from the business-friendly environment Bulgaria offers, tourism is one of the country's leading industries. It ranked 5th for tourism in Eastern Europe and has long been a major source of the country's GDP.
Keen travelers are searching for the best vacation destinations that will not deepen their wallets yet offer incredible benefits.
With the holidays here again, Bulgaria should make your bucket list to see exquisite nature, outdoor preferences, alpine mountains, blue glacial sea,
The Balkan peninsula is one of the European destinations largely untouched and undiscovered. So it is time to go and discover the place yourself.
The average cost of staying in Bulgaria is €35-130 per person per day. And with $600 on a tight budget, a backpack traveler will have a nice stay.
3. The Czech Republic
The Czech Republic is another affordable European destination with the most castles. The castles include Hluboká Castle, Lednice Castle, Orlík Castle, Karlštejn Castle, and Prague Castle, which is the largest ancient castle in the world.
The number of tourist visits is expected to increase every year as more tourists get informed about this unique vacation destination in Europe.
Beer in the country is cheaper than water. That alone is a tourist attraction. Another must-see attraction is Sky 721, the longest suspended footbridge in the world with a length of 721 meters.
The Pilsner Paradise in Prague, the new archaeological open-air museum in Trocnov, the local underground at Brno, and many others are some of what you need to experience when you visit.
Meanwhile, it will cost you to visit the Czech Republic around Kč2,050 ($92) per day. This is the average daily price based on the expenses of other visitors.
4. Hungary
Hungary is known for its spa towns and hot springs. Being a hot European vacation destination that is highly affordable, tourist arrivals here are at its peak.
Travelers fly from different regions to explore Hungary's rich culture, history, and heritage.
Budapest is the capital and the largest city considered to be one of the most beautiful vacation destinations in Europe. The city hosts the Buda Castle, the Danube River, and the whole Andrassy.
It is an excellent vacation destination that is both a money saver and adventurous for its romantic architecture, picture-perfect scenery, and luxury of thermal baths which are cost-effective.
You should plan to spend around Ft24,259 ($67) per day on your vacation in Hungary. But how affordable your stay in Budapest or other countryside depends on your spending habits.
5. Portugal 
If you want to enjoy beautiful weather and astonishing beaches, while saving some money, Portugal will fit perfectly.
Portugal is one of the cheapest countries in western Europe to visit. Accommodation, food, and activities are significantly cheaper than other tourism hot spots in the region.
Flights to Portugal are what may seem expensive like any other country but visiting during the off-season from January can help save some bucks.
Arguably, all tourists have Portugal's Azores Islands on their list, yet there are more choices to explore. Lisbon and Porto are must-see places when you come to visit these vacation destinations in Europe.
For a budget traveler, the average price of a week's trip to Portugal for one person is $1,233 and a couple's trip will cost $2,017. Accommodation in Portugal hotels is quite affordable too. They range from $45 to $199 per night.
Final thoughts
Traveling is a great cause. It expands your horizons and improves your physical and mental health. While there are so many reasons you should visit Europe, learning new stuff tops the list.