Vin University Scholarships is offered by a Private University in Vietnam by Vingroup, the largest private conglomerate in Vietnam. The University is offering Scholarships for international students. Vin University has a collaboration with Cornell University and the University of Pennsylvania. Located in Vietnam, VinUniversity is now home to students and faculty coming from 27 countries around the world, embracing the values of diversity and inclusion.
Fully Funded Vin University Scholarships In Vietnam 2024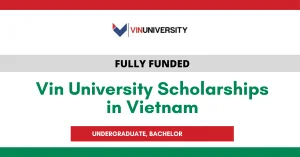 DEADLINE
31 December 2023
STUDY IN
Vietnam
PROVIDER
Vin University
STUDY LEVEL
Bachelor, Undergraduate
SUBJECTS
All Subjects
FUNDING TYPE
Partial Scholarships, Fully Funded Scholarships
Scholarship Eligibility
Eligibility for Vin University Scholarships
Eligible Countries: no restrictions on nationality
Eligible Applicants: Students who graduate from any high school in the world with excellent academic capability
Scholarship Benefits
The Vin University Scholarships details are as follows:
VinUniversity Merit-based Scholarships:
Cover 50% – 100% of the tuition fee for a student's entire degree program at VinUniversity. Students with exceptional talent will be granted full scholarships covering 100% of the tuition fee plus ~US$1,500 for living expenses.
VinUniversity Financial Aid:
Cover from 50% to 100% of student's tuition fees for their entire degree program.
35% of tuition subsidy from Vingroup:
For the academic year 2023-2024, all admitted students will receive a 35% tuition fee subsidy from Vingroup. This is not applicable to students who have received merit-based Scholarships and Financial Aid.
AND OTHER additional support from VinUniversity and partner organizations for specific applicants. All students are eligible for MORE THAN 01 type of scholarship and support.
Others
Colleges and Academics
College of Business and Management:
Bachelor of Business Administration with 6 majors (Business Analytics, Entrepreneurship, Finance, Hospitality Leadership, Marketing, and Operation & Supply Chain Management).
College of Engineering & Computer Science:
Bachelor of Science in Electrical Engineering
Bachelor of Science in Mechanical Engineering
Bachelor of Science in Computer Science
College of Health Sciences:
Medical Doctor
Bachelor of Nursing
If you are looking for a university with international standards right in Vietnam, where you can maximize your potential to pursue your dreams, and meet and learn from knowledgeable lecturers and peers, DON'T MISS THIS CHANCE!
I hope you find this article helpful.