The Vrije Universiteit Brussel Funded Scholarships in Belgium is open to all internationals who want to pursue a European Master of Science in Photonics.
Vrije Universiteit Brussel is a university located in Brussels, the geographic center of Europe. The main aim of VUB is to contribute to a stronger culture for the future effectively and actively through specialized, top-notch research and education. All the applicants will have the chance to show proof of their technical expertise, who want to enroll at Vrije Universiteit Brussel during the entry evaluation before final admission. The application for each grant will be evaluated based on competence and encouragement after our program has been approved.
Vrije Universiteit Brussel Funded Scholarships In Belgium 2024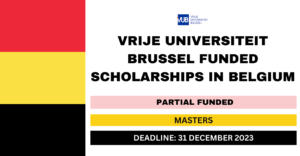 DEADLINE
31 December 2023
STUDY IN
Belgium
PROVIDER
Vrije Universiteit Brussel
STUDY LEVEL
Masters, Postgraduate
SUBJECTS
Subjects offered by the university
FUNDING TYPE
Partial Scholarships
Scholarship Eligibility
The eligibility criteria for the Vrije Universiteit Brussel Funded Scholarships in Belgium are stated below:
1. International applicants from all world countries are eligible.
2. The required study language is English. The language requirements for overseas (international) students are:
i) A TOEFL test with at least a score of 87 (internet-based) or 570 (paper-based) was taken no more than two years ago.
ii) An authentic "test report from" (TRF) from IELTS with a minimum overall band score of 6.0 was produced no more than two years ago.
iii) First Certificate in English (FCE) from Cambridge-ESOL.
iv) Students who have earned a secondary or higher education diploma from an accredited Flemish Community institution are not required to submit proof of linguistic ability.
v) If the candidates have completed a minimum of one year (60 credits) of secondary or higher education with English as the primary language of instruction, then they are also exempt from taking language examinations (an official certificate must be supplied).
Important note: You always have the option to submit your proof of English proficiency or APS certificate instead of missing the deadline if it is not ready in time.
Scholarship Benefits
The Vrije Universiteit Brussel Funded Scholarships in Belgium will provide a number of full scholarships for a total of 10,000 euros each year from the Vrije Universiteit Brussel. This award is intended to help with the additional living expenses of studying in Brussels. The application of each candidate will be evaluated based on excellence and motivation.
B-PHOT Excellence Scholarship scheme:
1. According to the University criteria, the three best-ranked students will receive the Entry Scholarship of 1000 Euro at the start of the first semester of the first year of the MSc degree.
2. At the beginning of the second semester of the first year of the MSc, the top three students, based on their academic standing after semester 1, will receive three continuation scholarships, each worth 1500 euros. Additionally, the applicants who did not receive the Entry Scholarship will be considered for the Continuation Scholarship.
3. At the beginning of the second year of the MSc, One Excellence Scholarship will be provided, valued at 5000 Euro.
Others
Required Documents
1. A copy of ID
2. CV or resume
3. Motivation letter
4. Recommendation letters (Two)
5. official transcripts of a bachelor's degree or official certificate of graduation.
6. Official transcript and complete records BSc.
7. Official language certificate
8. Complete overview of bachelor course content description
I hope you find this article helpful.